Feedly – News Reader That Lets You Save & View Pages Across Devices
Internet access is in no way restricted to just your desktop anymore; tablets, phones, netbooks and notebooks allow you to go online provided you have a working connection which isn't a big deal. All this means that you don't have to sit down at your desk to read a really great article. One of the many ways that people keep up with what they were reading is with a unified online feed reader like Google Reader. Feedly is a web service that lets you read your RSS feed and pulls your feed directly from Google Reader. The question is, why use a reader for Google Reader? Feedly lets you add any web page to your Feedly account for reading later, without needing an RSS feed. That means pages can be bookmarked using Feedly and read later from your laptop, tablet, iPhone or Android phone.
The purpose of using Feedly can be summed up as; the service is free, the iPhone & iPad apps are free, as is the Android app and you can use it in Chrome, Firefox and Safari. The service, coupled with its apps and extensions will allow you to send any web page to your Feedly reader.

To use the service, sign in with your Google account; the service is available for both Google accounts and Google App accounts. All your feeds from Google Reader will be synced within seconds. Click Latest to see your most recent unread items and Saved to view web pages that you saved so you could read them later. The Cover and Explore pages allow you to see trending news from popular blogs in addition to starred items from Google Reader. To add a feed, go to the Content page accessible from the menu on the left. To add one of the popular sites featured on the cover page, scroll through the tiles in the input box that opens when you click the large plus sign Add new website. To add a site that isn't listed, copy and paste the site's URL or its RSS link in the bar and hit enter. Click the plus sign on the site tile when it appears.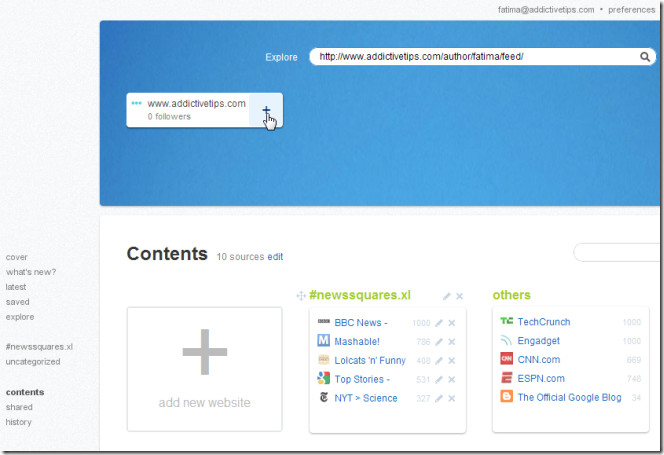 To save pages from within one of the three supported browsers (Chrome, Firefox & Safari), install the respective extensions. A small greyed out button that resembles the Feedly logo will appear in the lower right corner of all pages that you visit. Click the button to see options for sharing the web page on different sites like Facebook, Twitter, LinkedIn etc. Click Save for later to save the web page and access it from any device.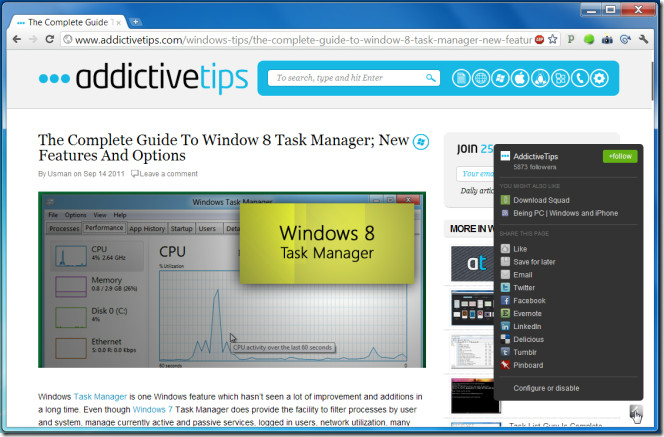 Both the Android and iPhone apps are insanely popular, not to mention, free. Internet Explorer users will have to make do with using the web service only since there isn't an extension or bookmarklet for it that allows you to save pages directly to Feedly.