FileLab Audio Editor Lets You Add Multiple Effects To Audio Tracks [Web]
There are a lot of audio editors currently in the market, ranging from applications that perform only specific functions like splitting or joining audio tracks, to applications like Adobe Audition and Sound Forge that can be used to perform extensive audio editing at professional level. We previously covered an audio editor called Wave Editor, which allows users to make small audio adjustments to a track. The developers of FileLab Video Editor have created an audio editing web-based service, FileLab Audio Editor, that lets you add effects such as Amplify, Fade In/ Fade Out, Echo, Reverb, Tempo Change etc. effects to an audi track. It lets you generate Silence and Signal patches to include in your track and save it in WMA, WAV and FLAC formats.
The application is very user friendly. All the tools are neatly grouped into separate tabs accessible from the left side.It has Audio Effects and Generate tabs at the top left, while Open, New, Undo, Redo, Cut, Copy To Clipboard, Paste From Clipboard, Delete, Trim and View File Properties buttons appear at the top right. By default, the Audio Effects tab is selected containing Amplify, Fade In/ Fade Out, Normalize, Mute, Invert, Limiter, Auto Correction, Echo, Reverb, Tempo Change and Equalizer buttons at the left side. The Generate tab includes options to create Silence and Signal track patches and the track timeline appears at the right side of the main interface.
To start, open the web service in your browser and install required plugins, if prompted. The application requires you to sign in with a Google, Facebook or Twitter account in order to use all its services. Click Open and select a track for uploading to FileLab Audio Editor.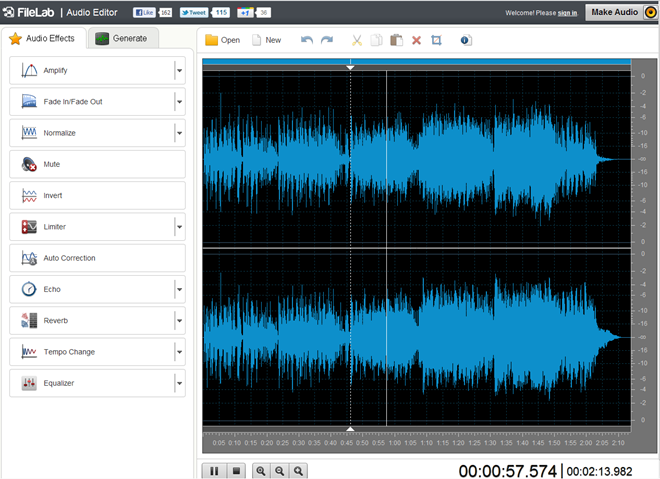 Once the track is uploaded, you will be able to add and edit different effects to it. Open the drop down menus to add effects, or click on their respective buttons to specify the effect in more detail before applying it to the track. For instance, open the Reverb drop down menu to add effects such as Empty, Hall, Packed Audience, Cathedral, Arena, Cave etc.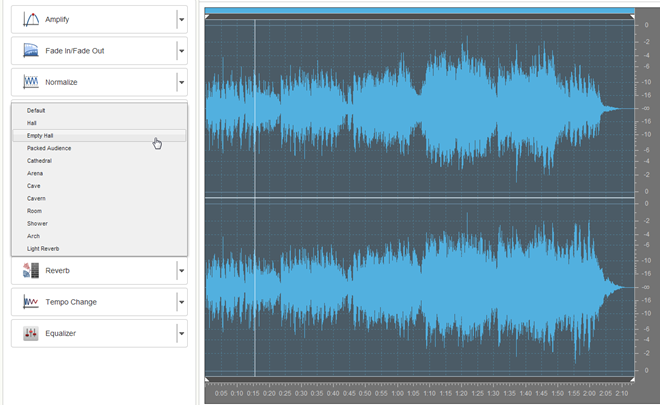 Once you are done adding effects, click Save Audio button at the top right to save the finished audio track. FileLab Audio Editor allows you to save the track in WMA, WAV and FLAC audio formats. Just enter the File Name, Output Folder and click Make Audio File to finish the process.