Firefox 10: Now With Add-on Compatibility, Full-Screen Web Apps, UI Tweaks & More [Download]
Firefox 10 is now available for download, with some major improvements and changes. The new version automatically hides the Forward button until you navigate back, and supports full-screen APIs for web apps and utilities that can use the entire display. Moreover, add-on compatibility is now supported by default. Mozilla has also designed the ESR feature (Extended Support Release) for companies and organizations that can not keep up with the rapid new version release, after every six weeks. The ESR releases will only increase by a minor version, whenever Firefox's standard version goes through a major version update.
Firefox users experienced add-on compatibility issues in all previous version of the browser. With Firefox 10, add-ons are automatically set to be compatible, if they were compatible in any of the previous versions. Furthermore, CSS3 3D transforms are now supported, letting developers animate 2D elements into 3D using HTML5, without the need for third-party plugins. Full screen APIs allows you to build a web application that runs in full screen, whereas the inspect tool with content highlighting includes new CSS style inspector.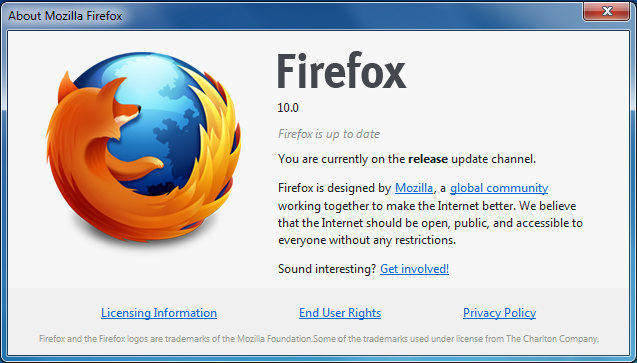 You can view the complete list of changes here. As always, we recommend users to keep up to date with the newest version of Firefox for the latest bug fixes and features. Download Firefox 10 from the Mozilla link given below, or click the About option in the Help category to automatically update Firefox to the latest version.