Firefox Gets Privacy Settings (about:permission) For Websites
Hot on the heels of the new Chromium encryption feature for synced data; Mozilla too has added a new security feature in its Firefox Nightly build. The feature is accessible by typing about:permissions in the URL bar and lets you configure settings for all websites. You can set preferences for individual sites or configure the same security settings for all sites.

The about:permissions settings let you decide which sites to save passwords for, which sites to share your browsing location with, allow cookies, pop-ups and maintain data offline. The great thing about this feature is the level of customization it gives and how easy it will be for even a novice to configure what data s/he wants to share with websites with the simple dashboard layout.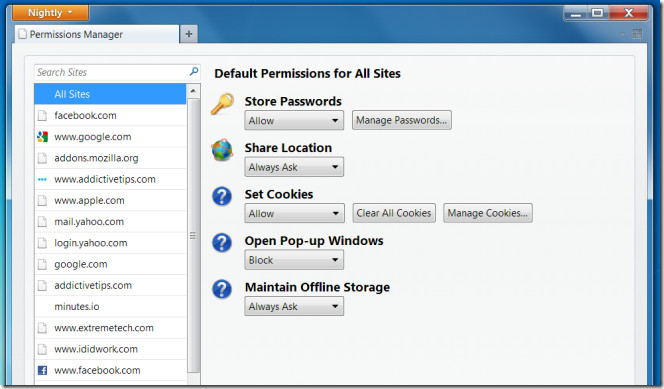 To access the options, download the latest Nightly build for Firefox and type about:permissions in the address bar. A dashboard with all sites you've ever visited (history will be imported from your Firefox browser) is listed in a panel on the left. You can search the list if you want to set permissions for a particular site. To set permissions for all sites, select the 'All Sites' option at the top of the list and customize your settings.
As browsers compete for more users, interface isn't the only thing that they're revamping, both Google and Mozilla are focusing on improving security as well.
Download Nightly Build For Firefox
[via ExtremeTech]