Frrole Makes Twitter A Location-Based News Source For 50+ Cities [Web]
Frrole is a social newspaper that provides contextual and useful information from Twitter for 50+ cities. It retrieves location based tweets and offers you the most interesting happenings in your vicinity, or for other popular cities, allowing you to keep abreast of all the news in either your area, any chosen city or the whole wide world. Frrole offers you with a great way to keep track of what is happening locally, without having to manually scan Twitter. Moreover, news items are divided into various categories, in real time, such as Headlines, Entertainment, Sports, Travel, Deals, Events, and Jobs. Also, for each feed, you will be able to view its title, time and the number of retweets. Frrole not only shows you the topics that are most discussed in a city, but also gives you an excellent way for finding new people to follow, based on their tweets.
The service has a neat interface, with seven different categories displayed at the top of the page. You can select one of the categories from the list and a city from the menu displayed to the left hand-side. Items will then be filtered accordingly, and the most recent posts will appear at the top of the interface.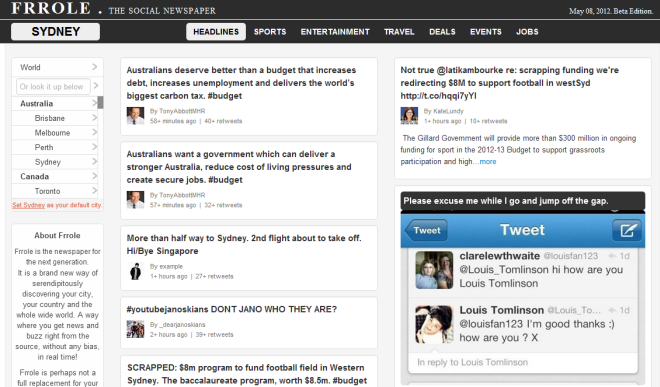 Additionally, you will be able to access various options for each item, like Retweet This Tweet, Share This Tweet On Facebook, Flag This Tweet and Flag This User.

The major drawback with the service is that for countries that it doesn't support, the news might largely be irrelevant. Twitter might be a great way to learn about global news as it happens but it's an equally great way to learn about local news and the countries that the web site doesn't support (and there are quite a few of them) are left out. Another thing that isn't clear is how trending topics impact the news. If the news items are displayed based on their popularity or particular hash tag, the aggregated news you see can be wildly skewed. If the web service is indeed influenced by trends and hash tags, there should be a way to filter them out.
Frrole lets you retweet any post you like, making it easy to share content, and gives you a brand new way of discovering your city or the world. Visit the link below and let us know what you think about it.