Get Feedback Over Rough Drafts And Ideas With Entri
Entri is a nifty collaborative online tool for getting suggestions/feedbacks from your Twitter followers before putting your document out to public. The idea is new and very intriguing, it will be helpful to bloggers, before publishing an article on a blog, it lets them roughly jot down the main points, ideas, new thoughts, etc., for taking diverse suggestions from their followers.
It brings a simple editor with all the essentials of writing one professional article. To begin collaboration on your draft document, blog article, or ideas, simply login with Twitter account credentials, and start jotting down whatever you want. It automatically saves your document and provides you a link to share with anyone (even he/she not following you on Twitter) for taking feedback. Whenever you feel like sharing the document, click Share to tweet Entri Post Title & URL message to your followers. You can view all the collaborators on the right sidebar.
As it mainly focuses on facilitating bloggers to enhance interactivity with their readers, you can include images in the document, plus a separate title pane is also provided over the main editing area.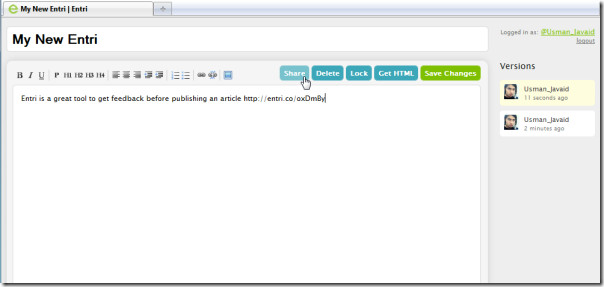 The Lock button refers to locking down the document to stop getting feedbacks on your rough draft. HTML version of the document can also be seen by clicking the respective button. According to the developer, Entri's API is being built for integrating this service into popular blogging platforms, such as, WordPress and Expression Engine.