GitHub News Feed Filter – Pick Which Alerts You See In Your Feed
GitHub is an extremely popular code hosting site, not only does it make it easy to share code but also to connect with a huge community of developers and benefit from their expertise. Among the multiple benefits that come with using GitHub, there is the ease with which you can follow different projects through your feeds. GitHub News Feed Filter is an extension for Firefox that cleans your feeds according to your preferences. It lets you pick what updates you see and hides the ones you wouldn't necessarily want cluttering the important updates.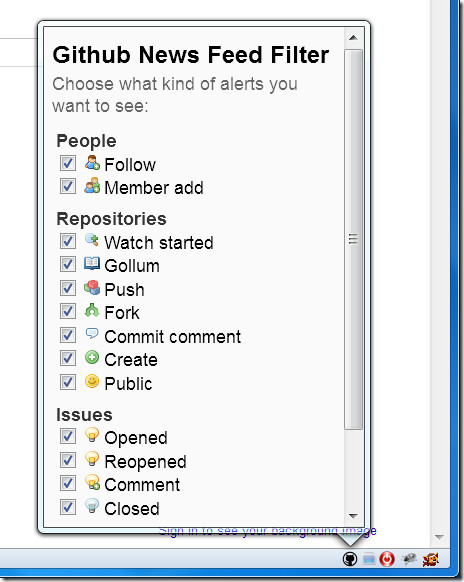 The extension installs as a button in the add-on bar; click the button and check the box against which feeds you want to see and save your preferences. The extension does not 'remove' the unchecked feeds, it 'hides' them which means that you can view them again any time you want by checking the respective boxes. The extension can hide follow or new member added notifications, repository notifications; newly created, started watching, forked, etc. and feeds about issues opened, closed, commented on or reopened.
Install GitHub News Feed Filter For Firefox