Goodies: Add Helpful Features To Facebook & Google Search [Firefox]
Goodies, a Firefox add-on, enhances Facebook and Google by adding some helpful features to them. With this add-on, you can FriendFeed your newsfeeds, blow up your images, De-theatrify your photo viewer, and bubble your photos. Furthermore, SearchSpotlight is added to your Google search results. Occasionally, Goodies may also add a shopping link to your Google Search results if its determined to be useful, and you can enable/disable each feature independently. These features enhance your Facebook and Google browsing experience, making it more interactive.
FriendFeed lets you see the latest news feeds of your friends. You can fetch a particular number of  posts, add speech and thought bubbles to photos, and use animation effects.

Highlight Google Search results by enabling the SearchSpotlight option. This feature will allow you to browse and find results more easily. You can filter results by certain keywords, and enable the Speedy view to see only the result links without any details.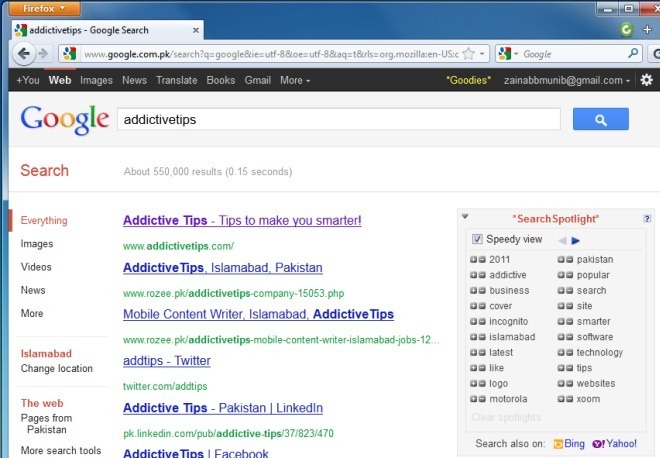 It's always hard to see those tiny thumbnails on Facebook, and with the Blowup feature, you can quickly expand the tiny pictures & thumbnails. Simply mouse over the Goodies icon to enlarge images.
De-theatrify is another handy feature, which takes you back to the traditional photo viewer of Facebook. So, if you hate the new viewer which appears over the existing page, then enable De-theatrify.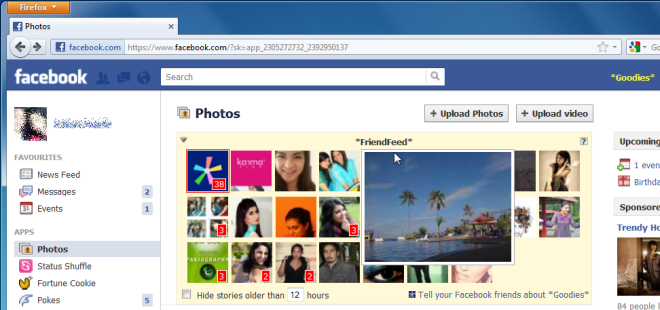 Also, enable or disable each feature separately by clicking the Goodies button. Click the tiny arrows in front of each feature to access its details and how it works.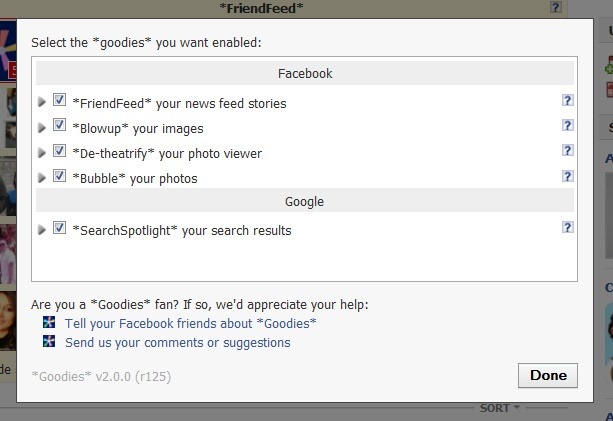 The add-on adds some useful functionality to Facebook but we observed that in addition to the feature it adds to Google search, it also inserts results from Amazon. The results are related to your query but if you were to search the same word/phrase with this feature of the extension disabled, you won't see it and that means the add-on is manipulating the results without explicitly stating it does so. The Amazon result appears as a 'Goodies Shopping Tips' and there is no way to disable it. If you choose to use this add-on, you might want to disable its Spotlight feature. There aren't any such change on Facebook and the rest of the features appear to work fine so overall, the add-on is alright.
Goodies is a handy add-on that allows you to add some fun & helpful features to Facebook and Google Search results. Try it out at the link provided below.
Install *Goodies* Add-on For Firefox