Google Chrome Screenshot Extension
Aviary Screen Capture is a screenshot plugin for Google Chrome that can capture any visible portion of a web page. Aviary is an online image editing service which competes with other image editors, such as, Picnik and Pixlr. This extension is an official release from Aviary.
Once installed, it will add an icon next to the address bar. To capture a screenshot of a web page, click the icon and then select "Capture Visible Portion of Page" from the menu.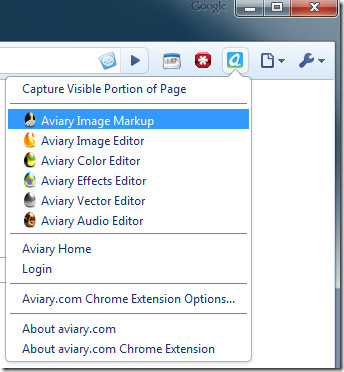 By default it will open the screenshot in Aviary Image Markup editor. You can change the default editor by going to Aviary Chrome Extension Options.

Apart from the screen capture functionality, you will find a complete list of Aviary online tools listed. Clicking any tool will open it in new window. Once the screenshot is opened with an online editor, you can make some final editing before saving it to your hard disk or online.
Aviary Screen Capture Extension