Google Flights: Find & Book Flights With The Cheapest Fares [Web]
Yet another useful web service by Google, Google Flights allows travellers to search for cheap air fares for different destinations in the US. Users can also search by different airlines that are flying on different dates. To get the rates of different airlines, select your destination, and Google Flights will allow you to filter results by date, duration and price. Flight results change as you apply different filters. Furthermore, it lets you select the flight you want to book and purchase your ticket from the airline's website.
To begin searching for flights, select a departure city from the drop down menu, or simply type it in and choose a destination where you want to go. Google Flights allows users to quickly filter results by price, date, flight duration and airline.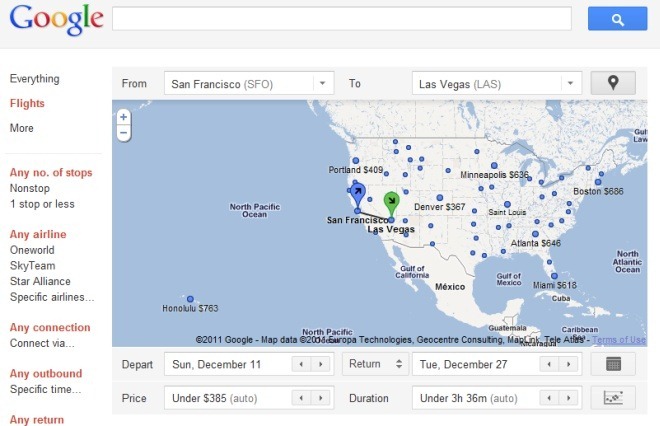 Google Flights gives users a list of search results that allows them to easily choose an airline. Clicking one of the results also displays all other similar available flights.

Click the calendar icon on the extreme right of the Depart/Return bar to open a calendar to specify a time duration within you want to depart. The lowest available fares during that time period are displayed to the right of the calendar, in form of a bar graph. Click return to select a Return or One Way trip.

You will find a graph icon to the right of the Price/Duration bar. Click this to open a graph of Price with respect to Duration. You can click and drag along each axis to change its value and filter results accordingly.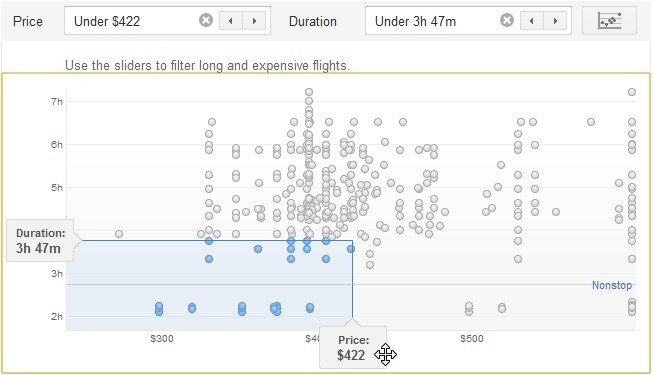 Google Flights is a powerful flight search engine that helps you to save a whole lot of time and cash. Hopefully, the service will expand in the near future, adding other worldwide destinations to its search engine. Visit the link given below, check it out and let us know what you think about it in the comments section below.