Google Image Ripper: Minimalist Image Search With Direct Download Links [Web]
Google Image search is one of the most comprehensive image search tools on the web that provides users with fast and accurate results. While we search Google images, thumbnails of images are displayed and, when clicked, the image is displayed in a box over the original website. In order to download an image, the user can either close the box and download the image from the website, or view the full-size image and then download it. Downloading images from Google Image Search results means that you have to go through some extra steps. Google Image Ripper, a simple tool, solves this problem and makes both image search & downloading easier. Both Google Images and Google Image Ripper have the same search results, but Ripper comes with a minimalist layout and displays images with direct download links, so you do not have to leave the search page to download the image. It then allows you to view the full sized images in a slideshow. However, a drawback of Ripper is that the search filters are removed, and only two filters, Safe Mode and Image Size, can be applied to the search results.
Google Image Ripper displays images in a clutter free interface; however, you will be able to apply only two basic filters. Image Size filter has three options (large, medium and icon), whereas Safe Mode filter has an on or off option. Each image has a Download and a View Website link. In addition to that, you can enable the Do not show broken image option and click Show More Results.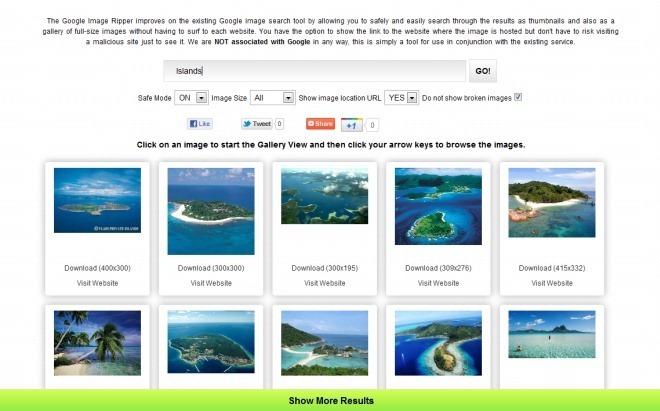 Full-sized images are displayed in a a slideshow with each image having a Next button. Click the CLOSE button to return to the results page, or simply click Download to save the image to the local system. The image number is also displayed at the bottom left corner.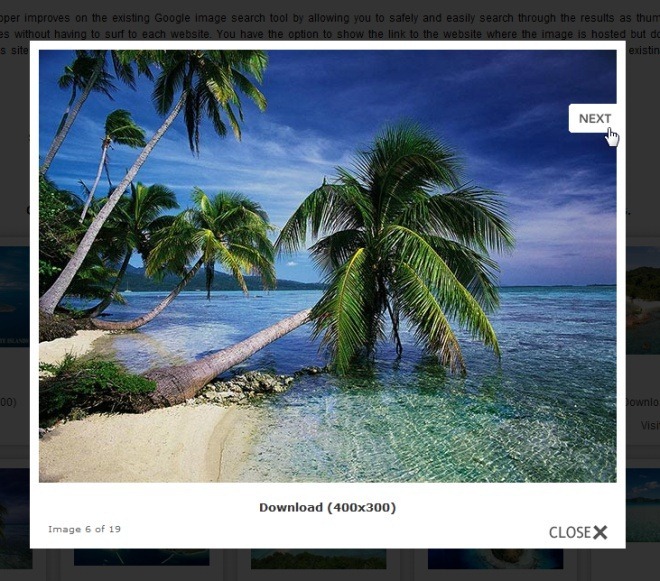 Google Image Ripper is an alternative to the traditional Google Image Search, which makes the download process a bit complicated. This handy service allows you to directly download images and eliminates all the extra clicking.