Google Input Tools Shows Onscreen Keyboard In Multiple Languages [Chrome]
Sometimes, we need to input keys from different keyboard languages and their respective layouts, and especially installing a program for it can get quite complex. Google Input Tools, a Chrome extension, can be of help, as it allows you to type in different languages using an on-screen keyboard right within your browser. It provides various input tools that can be used on any website. Once you've added the extension, all you need to do, is select and add your desired languages. When on a website, simply click the button in the toolbar, and choose a language you would like to type in. The extension provides access to more than 90 different onscreen keyboards.
Simply click the button in the toolbar and select a language. Once you've selected a language, a keyboard will appear on your screen, which you can then use either with your mouse or keyboard, to type in any website. Click on the tiny arrows on the keyboard to change the added languages and the layout. The keyboard is placed in the lower left corner of the screen, and the location of the keyboard can be changed by dragging it. However, you will not be able to change the keyboard size.
Right-click on the extension button in the toolbar and click Extension Options. Select a language first, and then one of the available keyboard layouts for that language. A double-click on the language adds it to the Selected input tools list, and double click it again if you want to remove it from the list. Once done, you can display the on screen keyboard with a click on the extension button in the toolbar.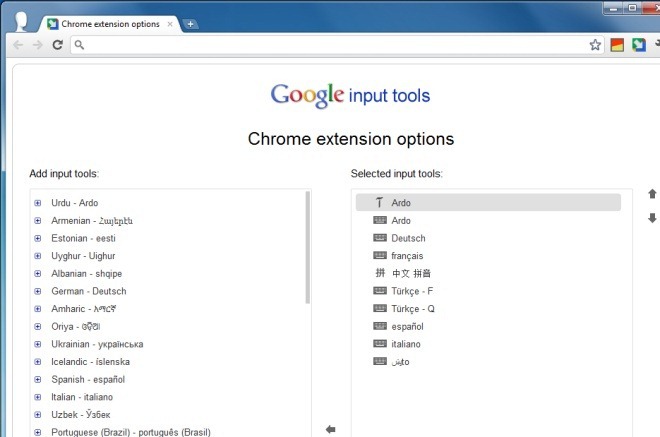 All your selected languages are added to the pop-out, and you may click a particular language to select it, or click Turn Off to disable the keyboard.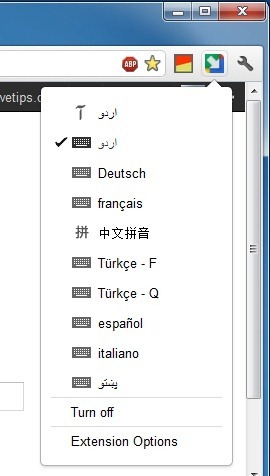 The extension can be found at the Chrome Web Store link below.
Install Google Input Tools For Google Chrome