Google Privacy: Tracking-Free Search & Browsing Experience [Firefox]
Do you wish to opt-out of online tracking? Harvesting browsing information and cataloging a user's preferences is something certain websites have been doing for quite a while now, in order to deliver 'a more personal web experience'. While that may be so, cautious surfers on the internet have always been troubled by an anonymous party saving and analyzing their data. Mozilla's Firefox browser comes bundled with a 'Do-Not-Track' privacy setting, but Google and other search engines seem to override it and continually track online searches and other activities. Google Privacy Firefox add-on shows tracking-free links or can replace the tracked links, supporting Google, Yahoo, YouTube, Facebook and Bing.
Once the add-on is installed, you can change its settings by accessing the Google Privacy preferences. If you want to disable this add-on, uncheck Privacy active. Doing so will uncheck all other options below it. Firefox has a default Do Not Track feature that you can invoke from this add-on's options by checking Set Mozilla's Do Not Track Flag.
You can have Privacy active while you are logged in and have it disabled otherwise by checking Privacy active when logged in. The add-on lets you view links in one of two ways. It lets you see the original link which may or may not have a tracking code and it gives you private link which is basically the same one but stripped of the tracking code. To enable one of these options, choose to Replace original links and also make original links visible. Modified links can be marked and their descriptions shown from within preferences.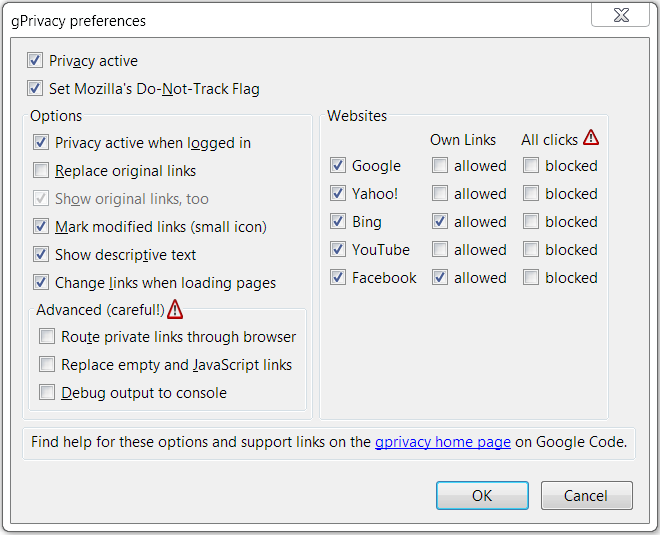 Moving on to the Websites section of preferences, the add-on lists known sites that provide user accounts and consequentially, use the account to track online activity. You can stop these sites from tracking your activity by selecting the Own Links option and the All Clicks options. The Own Links options stops the sites from tracking clicks made within their own domain and the All Clicks option stops them from tracking clicks outside their domain though a word of caution follows the use of this option as it might render a website unusable.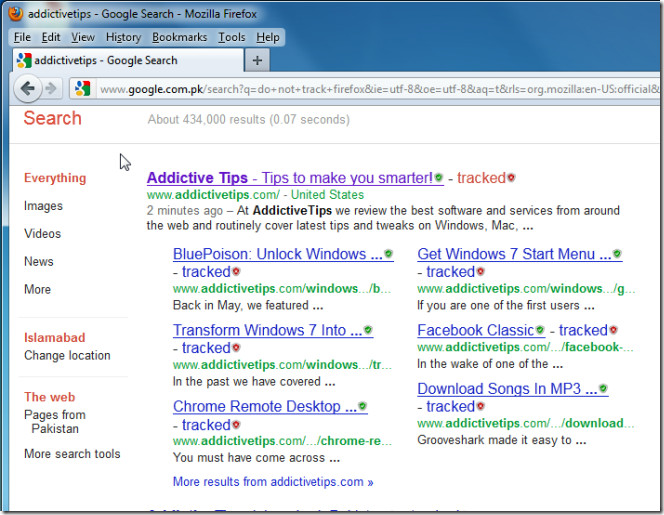 The Advanced options allow you to open links such that servers cannot track where a link originated from and where it's going. It adds yet another option (that must be used with caution) to stop websites from tracking you and allows you to write your own output to the error console. With Google Privacy active, your search results will be shown identifying untracked and tracked links, making for a securer browsing experience.
While very basic at its core, Google Privacy Firefox add-on aims to fill a gap that search engines continually take advantage of, and that is not in your control to opt out of.
Install Google Privacy Add-On Firefox