'Google Reader Inline' Pulls Full Text For Truncated Feeds [Chrome]
Won't it be great if you could read full-text feeds within Google reader, without having to open all those extra tabs? Google Reader is a popular RSS and Atom feed reader that displays partial content for certain feeds. In order to view full-content, you have to right-click the links and open them in new tabs. This process can not only be time consuming, but also causes the tab bar to get cluttered after a while. Google Reader Inline is a Chrome extension that makes things easier by converting truncated feeds into full ones automatically. It loads full-form articles within the Google Reader frame, so you no longer have to open new tabs to view full content. Moreover, you can even view the original article in a neat page that is overlaid the current one. You can then click anywhere outside the page to go back to your feeds.
After the extension has been installed, when you expand a partial item inside Google Reader, the extension will automatically load the content and display it as a full-text feed. Also, next to each feed's title, you will find a magnifying glass that will let you view the original article in a clutter free, scrollable page superimposed over the current view.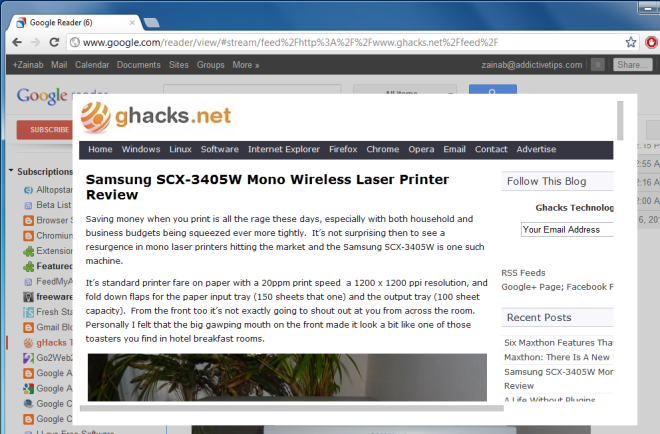 The major advantage of this extension is that if you like an item in your feed just from its introduction, you can start reading it right away. What usually happens is when you like an item, you open it and continue to go through your feed. By the time you're done and start reading the items you opened, it is likely you've forgotten what it was about or why it interested you in particular. Given this isn't likely to happen if the item/article has a good title but not all do. With the extension, you don't have to postpone reading. Additionally, some articles just start out good but quickly turn pointless in the next few lines and this extension should help you weed those out as well.
The major flaw, or rather technical compromise of this extension is that since items load fully in the back end first, Google Reader might slow down a bit if you are on a slow connection.
Google Reader Inline is a user-friendly tool that works seamlessly, providing you with a better reading experience and a visually more appealing interface. The extension has no settings or options whatsoever, and can be installed from the link below.
Install Google Reader Inline For Google Chrome