Get Google Search Results With Facebook Likes, Tweets & Google+ Shares [Web]
Google With Social Stats is a pretty slick tool that lets you view Google search results, along with social stats such as Tweets, Facebook likes and Google plus shares. These social stats are a good indicator of an article's popularity on the web, and help you decide whether or not to read a particular write-up. It displays standard Google web search results, along with image thumbnails and social statistics, so you can easily find the best content on the web. The service has a simple interface, which is easy-to-use and retrieves results instantly.
To start off, simply enter a query into the search bar and hit the Search button.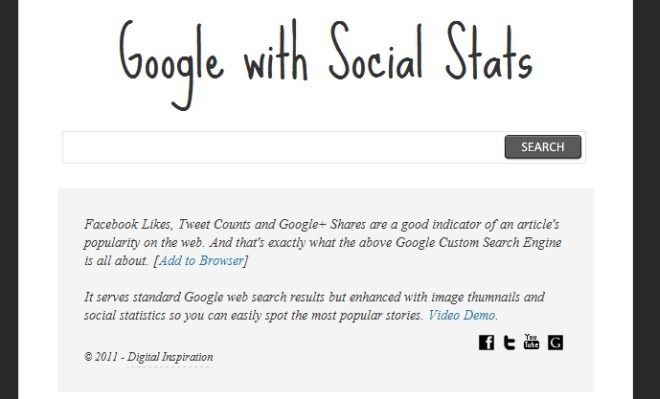 As you do this, results will instantly be displayed with thumbnails and social stats for each. With it, you can browse the web more effectively. However, during out testing, Facebook likes and Google+ shares did not show up in the search results, and only the number of tweets were displayed under each post.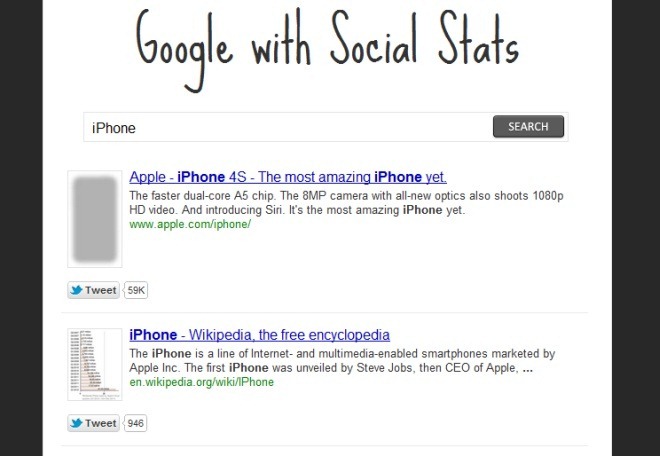 Overall, Google With Social Stats enhances your web browsing experience and lets you view the most popular content online.
Visit Google With Social Stats