Gpanion – Dashboard For Accessing All Your Google Apps And Services
Google has a very wide range of services and apps for both businesses and ordinary users but surprisingly, Google makes you go to different places to access them all; it has yet to come up with a comprehensive launch pad that will let you enjoy every Google service. Gpanion is a dashboard for Google services and apps that gives easy access to everything from Gtalk, Google Search, GMail, Google Reader to Google Mars, YouTube and the Chrome app store.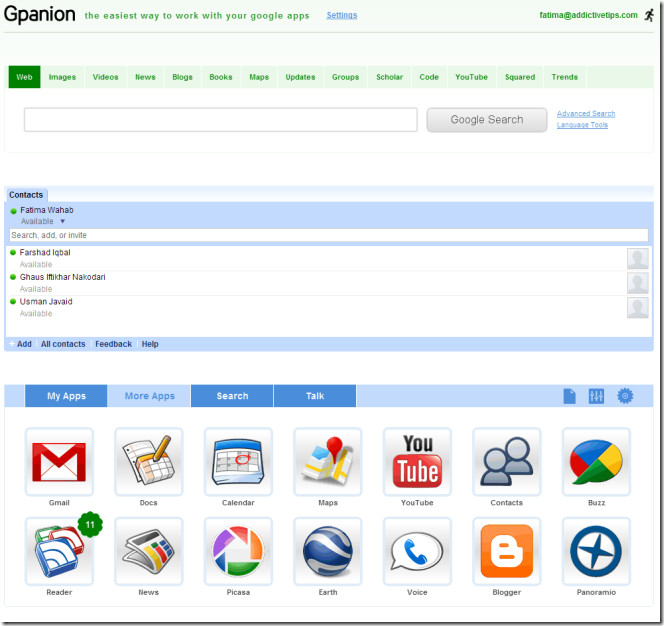 Gpanion lets you search the web and chat  with your contacts from a single window with a separate panel for accessing apps. The web service acts as a one way door to all the services you use and can be customized so that your favorite and frequently used apps are  available as buttons on the page. Clicking on any service will open it in a new tab. The service also plays a sound when you have new mail or new items in Google Reader. These settings can be changed from the 'settings' link at the top right of the page.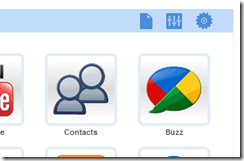 The dashboard has three buttons; they help start tasks (like creating new documents or emails) and customizing the 'My Apps' area. The Create New Google Document button lets you create a new email, document, spreadsheet, presentations or calendar event. The Performance Information For Google Services button tells you the status of the services you use.
To customize the 'My App' area click the Customize my Gpanion Dashboard button (the little wheel icon on the right). A list of every Google service and app will appear below the area. You can add or remove them by dragging & dropping the buttons. You can toggle Gtalk on and off and search for app on the Google App store right from the Gpanion home page. The layout is so clean and compact, it might just be a great home page for the avid Google user.