GPhangouts Lists All Public Live And Scheduled Google+ Hangouts
If you've been itching to start a hangout and failing to get everyone on board then you might want to give GPhangouts a try. It's something like Chat Roulette meets Google Plus hangouts only it makes more sense since profiles ensure that people you chat with aren't completely anonymous (or complete freaks). It gives a complete list of all public hangouts that are either live or scheduled some time in the future. It lets you see the time remaining till the hangout starts, the person hosting the hangout and the topic. You can add a hangout to the site yourself and wait for people to find and join you.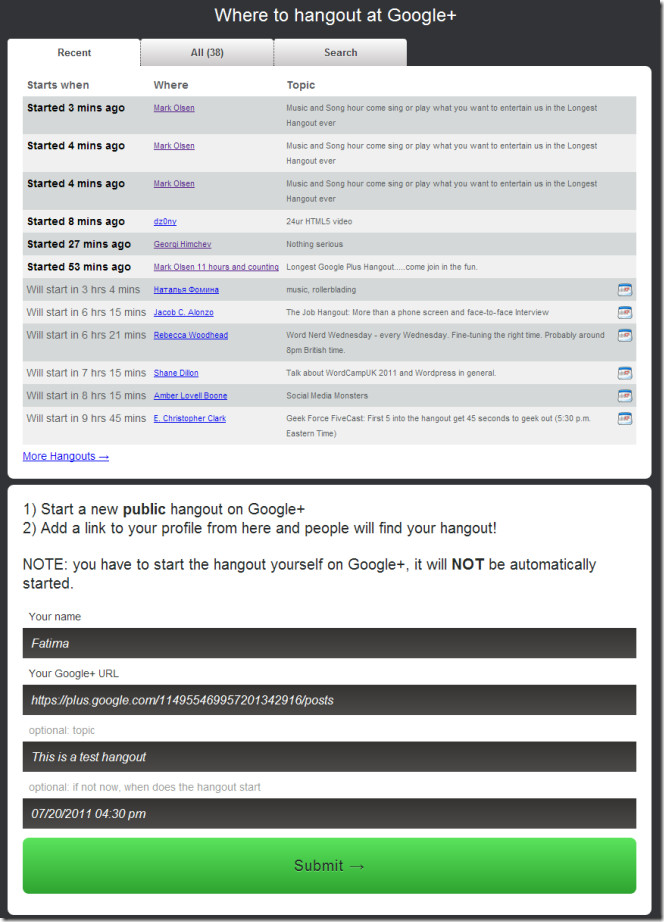 The site neither facilitates in starting or joining a hangout nor does it help you find private ones. Only Hangouts that are added to the site are visible. To join a hangout, you visit the profile of whoever is hosting and click the Join Hangout button. To add your hangout to the site, enter your name, your Google+ profile's URL, the topic of the hangout and when it will start. The site functions as an open invite to your hangout but will not start it for you as it explicitly states, you have to start it yourself for others to be able to join it.