Highlight Text To Begin Google Search In Chrome [Extension]
Google Chrome comes with build-in option to start Google search (from right-click menu) for selected text, but there are instances when search customization is also needed. Highlight to Search is a small nifty Google Chrome extension which offers instant Google Search with an option to customize the search on the fly as per requirements. Previously we covered a similar extension named, Google Image Search, that can automatically search images over at Google Images for the selected text, this extension works on same principle, providing user with an ease to begin Google search.
Once the extension is installed, highlight the text, it will show a small magnifying-imaged button beneath the selected text.
A click on magnifying glass will display Google search default suggestion box, here you can also add/edit and delete the search keywords. An easy alternative would be if you just click one time on text after highlighting it, you will instantly see the suggestion box to start the search.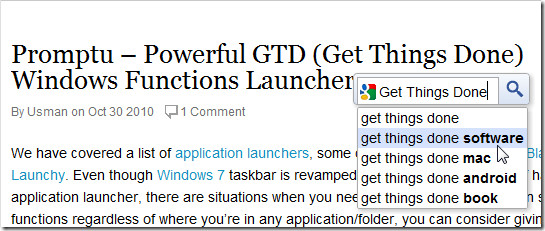 From extension options window, you can enable/disable options for opening search results in a new tab and using it on HTTPS page.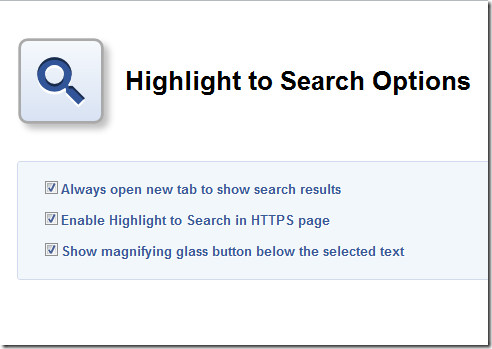 Highlight to Search Extension for Google Chrome
If you need to look up search results from more than 17 search sources, check out Ozone.