How to Capture, Save, Record and Download Streaming Audio For Free
Suppose you listen to audio podcast and music online, but you want to save it and download it on the hard disk, so that you don't need to connect to the web every time you need to listen to the same music over and over again. What if the internet does not get connected or you are somewhere in the middle of the Amazon jungle(Heck, I am kidding here). You can record, save and download the music from the website, even through it does not have a "Download" option.
To save streaming audio from any website can be a little tricky, because every website has its own encryption methods, but we can find a way to save the audio from the sound card, in this post we'll learn how to do it the most easiest and free method.
The software we'll use to capture or record streaming audio is FreeCorder. It is not a software but a toolbar, but who cares if it does a good job free of cost, FreeCorder is an intuitive program to use if you're going to record music via the web, such as Internet radio, etc. There are also other handy features such as the ability to extract audio from videos and record from your PC's microphone. It also supports Windows Vista and has absolutely no spyware which is the best thing, considering its free. You can save the recordings out as MP3 or as WAV files
Once you've installed it, click on the settings to configure the program.
The option to record from audio driver is checked by default, you can also change the destination where to save the recorded file also. When the configuration is done, there is no time to waste anymore just listen to any music on any website and press the RECORD button in the toolbar, you can even mute your speaker volume and still this software will record your streamed audio with ease.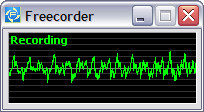 When your done recording your streamed audio, hit the STOP button in the toolbar and check for the saved audio in the specified directory. Saving streamed audio is this easy !
If you are having any problem with this method, please let me know in the comments below.