How To Combine Multiple Links Into One Shorter Link Using Shrink2One
How many times did you send friends or family a couple of links to various sites like your online photo album, a YouTube video, a funny news article, etc? It's a pain having to copy and paste multiple links in email or in Instant Messenger. Wouldn't it be nice if you could convert all of those links into just one simple link! If you are sick of pasting multiple links like me, then you should try definitely Shrink2One. It is a free web service that allows you to convert multiple URLS into one smaller URL.

To use the service, just visit the site, add different links of the sites you want to share, add a Title and enter the password(with is optional and can be entered if you want to share some secure links). Finally, click on Shrink Now.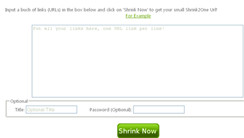 The service will provide you with new links after shortened, along with the list of sites selected for Thumbnail images of each site. You simply click on individual links or on each photo to access the site on the list.

Click on the link or the thumbnail and the website will open in a new tab!
I recommend you all to visit shrink2one at least once and create your own Shrink2One URL, and you will find that this is NOT just another small URL service out there. Its More than that !