How To Design, Make, And Print Business Cards For Free
We all need business cards during events, conferences, important meetings, and so on. Even though the digital age is taking over, business cards will not go away any time soon. There are plenty of services out there that help you create business cards and then ship them to you for a fixed sum, however some people don't need a fashionable business card and they need a cheaper (free) and quicker alternative. Free PDF Cards is a simple free online service that lets you create business cards instantly in PDF format. All you have to do is enter your contact information, customize text style and font, upload your logo, and click Preview. After you are satisfied with the final result, you can then download the card in PDF format by clicking Download button.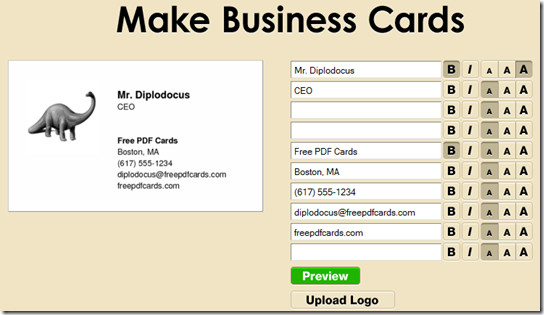 Once downloaded, you will find multiple cards which you can print using your printer and cut them in their respective sizes. For best quality, you can send it to your local printer shop who have equipments and accessories at hand to create high quality business cards from the PDF file.
The service is dead simple to use and you can create as many business cards as you want with your own personal logo, however it comes with some limitations. There is only one card size and you can only print on the front side, if you are looking to create a business card with the back side printed as well, then this web service will not help. The positions of both the logo and text are fixed and cannot be customized. You can make the text bold, italic, or increase the size using any one of the three given options. Since there is no help documentation, you will have to play around the logo size to see which best fits the card.