How To Manage Your Twitter Following
If you've been using Twitter for quite a while, you may have noticed the huge number of people that you are following. You may also have a lot of people that are now inactive, or don't use the service altogether. Such clutter can make it difficult to keep track of who you should actually be following.
ManageTwitter is a free web-based service that enables you to track and eliminate those people that are either not following you back or are no longer talkative.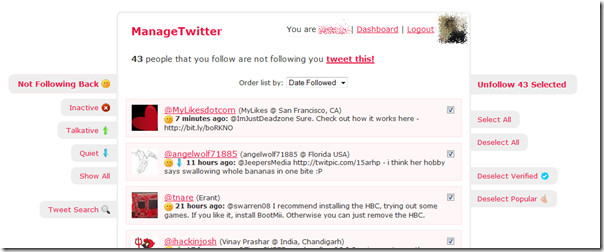 Once you have connected your Twitter account with the service, it performs an analysis and displays five views; Not Following Back, Inactive, Talkative, Quiet and Show All. Also given is the ability to search for a specific tweet.
The right pane offers controls, such as selecting and deselecting all contacts in that particular view, deselecting verified and popular users. With one click, you can unfollow all the users in the currently selected view.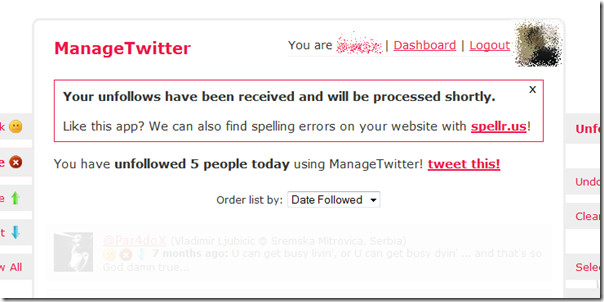 You can also tweet out the status of all the views, and any actions that you take. ManageTwitter determines talkativeness on the basis of at least 5 tweets per day.
Finally, in case something goes wrong, the application also allows you to download a CSV backup of all your twitter followings, accessible from the Dashboard link.

ManageTwitter is one of the best Twitter management services out there. It's free and offers great control over your twitter account, making it a must have for especially those users who have highly populated Twitters.