ididwork – Share Work Logs And Manage Employee Reviews
For small companies or teams working remotely, tracking tasks and feedback can be a real challenge. For people remotely managing multiple teams, reviewing tasks and performance can pile up over time and the bigger or more complex the team, the harder it is to manage the tasks. ididwork is a web service that simplifies work logging for employees and makes it easier for managers and peers to provide feedback on tasks.
ididwork can be used by both managers and employees; employees can update tasks as and when they do them and also keep a tab on tasks done by teammates. For tasks that were particularly helpful, important or well done, team mates can acknowledge them by giving kudos. This peer to peer feedback adds to an employee's profile and is visible to managers. Managers too can give kudos to employees. The number of kudos one person can give is limited, it's a way to acknowledge great work and is refreshed every Monday.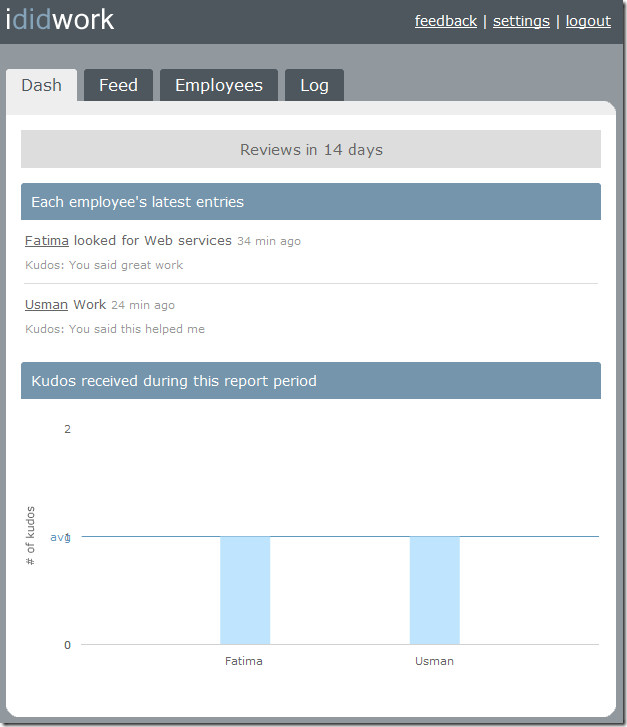 Managers have the added feature of writing reviews, they can schedule how often they would like to review an employee's work. Review questions can be open ended comments, questions based on how well the employee did and what he/she needs to improve or managers can write their own questions. Work entries can also be added using either aim, Gtalk or Yahoo messenger.
Managers can add employees when they create an account or add them later from settings. Similarly employees can add or remove a manager from their account settings. Employees that a manager adds, automatically become team members, however employees can add them from the 'feed' tab to start getting updates on their tasks.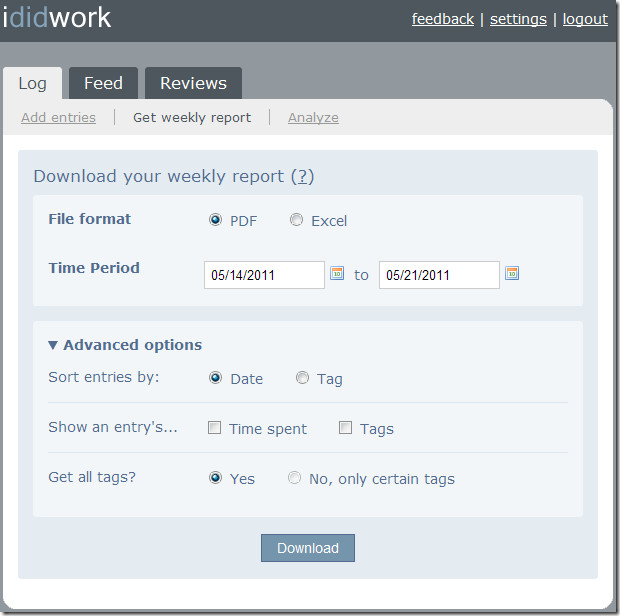 Work entries can be grouped by tags and based on those tags, employees can generate a graphical breakdown of their work. Tags can help differentiate tasks for different projects. In addition to that, weekly reports can be generated in Excel or PDF format.
The web service is simple yet impressive in its functionality. Surprisingly, the service used to be paid but premium plans have been removed and all features are now available to everyone with no limitations whatsoever. An account can be created as either a manager or an employee. There isn't a way for changing an account from employee status to manager status without losing all previous work feeds but other than that, it's a very useful and comprehensive way for logging work activities.