iFind: Send Links For iPhone, iPad & Android Apps To Your Device [Chrome]
iFind, a Chrome extension, lets you find apps for your iPhone, iPad and  Android device while you browse the web, displaying apps to the right hand-side of Google, Bing and Yahoo! search results. With iFind, you'll never have to remember the name of an app you want to install. When you've found an app that you really like and want to try out, simply send an email or text message to your device, after which you will receive a link to the the app. Before sending an app to yourself through an email, add iFind to your not-spam list; else, the emails will be sent to the spam folder.
To start off, simply enter a search term and, iFind results will be displayed to the right hand side of the Google, Bing and Yahoo! search results. You can either click the results to go to the original website, or click the tiny grey phone button to send an email or text to your device.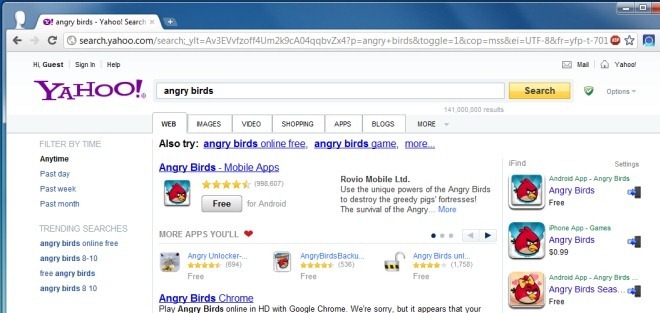 The iFind Settings allow you to select three search results, iPhone, Android and iPad. Next, select the websites you want iFind to show up on. iFind supports Bing, Google and Yahoo Search. Unfortunately, the extension was was not functional on Google search during our testing, as it is still in beta and has some bugs.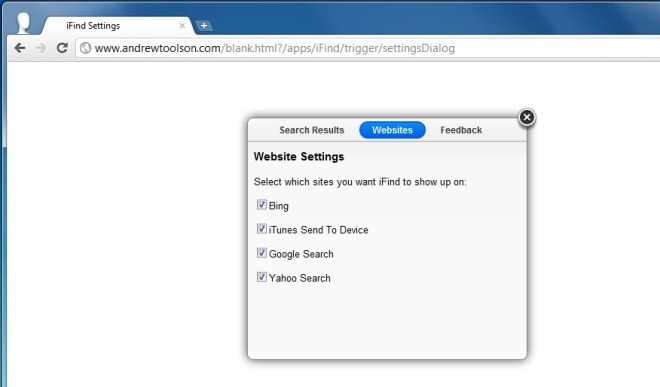 If you often browse the web on your iOS or Android device then you might have come across some websites that have their own app for your respective platform. Such websites give you the choice to either download and use the app instead or continue to the mobile site. This extension does something similar in that it allows you to choose which mobile platform you use and when you search for a particular website online, it tells you when you can download a mobile app for it.
The extension also lets you send the app to you phone by clicking the phone icon next to an app result. The app can be sent either via text message or via email. The text option is available only for US and Canada but the email option is open for anyone regardless of where you live.
iFind gives users a quick way to search and find apps for multiple devices when browsing the web. It also saves time by quickly letting you send app links to devices. Visit the link below, try it out and drop a comment.
Install iFind For Google Chrome