Informational Tab For Firefox Adds A Progress Bar & Thumbnails To Tabs
Want to know how much time a page will take to load? Informational Tab, a Firefox add-on, adds a progress meter and a thumbnail to each tab. This provides thumbnail style preview for each tab, and indicates unread/unviewed tabs. Informational Tab gives you a better browsing experience by visualizing how long a page takes to load. In addition to that, you can also view the thumbnails of webpages on tabs, which makes it easier to identify the contents for multiple tabs. The add-on also allows you to change the size of tabs, color of the progress bar, change the position of the close button, and more. Details after the break.
Once the add-on is installed, you will be able to view the thumbnails on each tab, and the progress bar while the page is loading. You can also modify the display of the tabs using the available options.
The add-on's options menu consists of four main categories, Preview, Loading status, Unread status and Close Button. Select Show thumbnail-style preview in each tab to see the thumbnails in all the tabs, which can reflect whole or partial web pages. Place the progress bar either on top or below the tab title, and choose the status bar color (blue or green) from the Loading status category.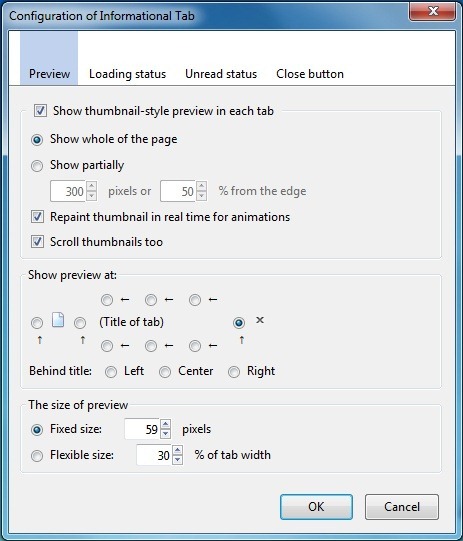 The Unread status options let you make tabs "read" when tab content is scrolled; otherwise, they remain unread. The Close button category has different options, containing Show a close button on the active tab only, Show close buttons on all tabs (default), Show a single close button at the end of the tab bar or Don't show any buttons. Also, you can select to show close buttons even if the tabs are too narrow.
This is quite a handy add-on, especially for regular users of Firefox. It allows you to see the loading time of websites, and makes your web browsing experience more interactive. Visit the link to install this add-on.
Install Informational Tab Add-on For Firefox