iZoom: Automatically Fit Webpage Contents To Window Size [Chrome]
iZoom Chrome extension allows users to view entire webpages, even when the window size is decreased, and, increases the content size as the window's size is increased. It automatically changes zoom level to fit window width. The extension comes with three different zooming modes, Shrink, Grow and Shrink & Grow. For Shrink, the zoom is always 100%, unless window width is decreased and contents will shrink to fit. Grow, on the other hand, causes the webpage content to grow with the width of the window. Content will shrink and grow to fit window width, when the Shrink & Grow option is enabled. When you switch between modes, the current pages must be reloaded in order for the changes to take effect. In addition to the zooming modes, users can also exclude images, videos, flash elements and java applets from zooming effects. Exempted items can be added from the options, or simply add current page and host to exceptions from the right-click context menu.
Select the Grow option from the toolbar or the right-click context menu, refresh your webpage, and you will be able to grow web content as the window's size is increased.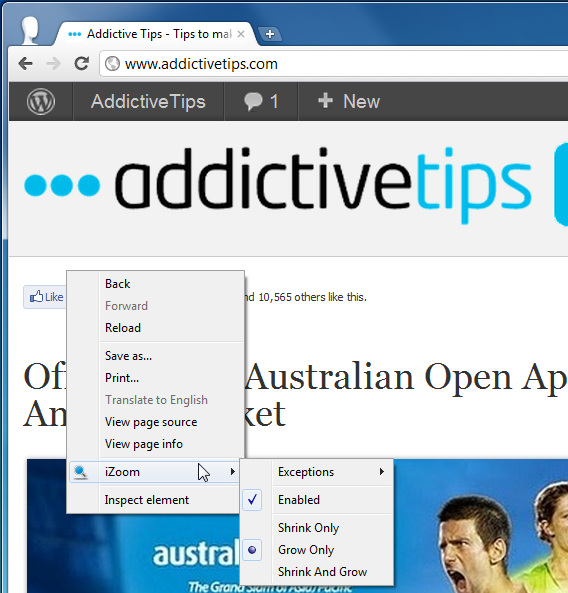 Similarly, select the Shrink option, refresh your page, and contents will shrink to fit the width of the window. Entire webpages can be viewed, no matter how small the window size is (although you might have to make use of a microscope).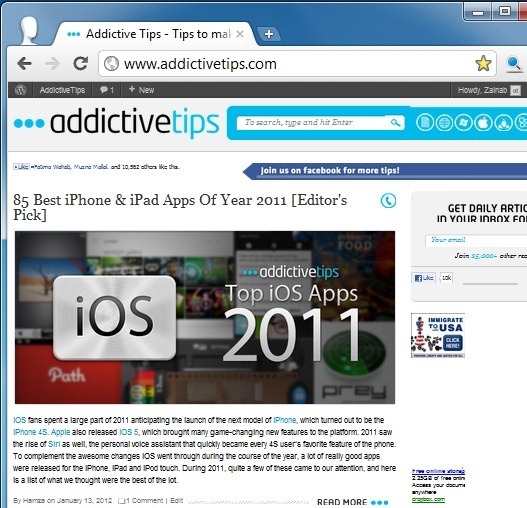 You can change the mode settings from the iZoom Options, toggle the extension's functionality, and select a Zoom mode from the list of options.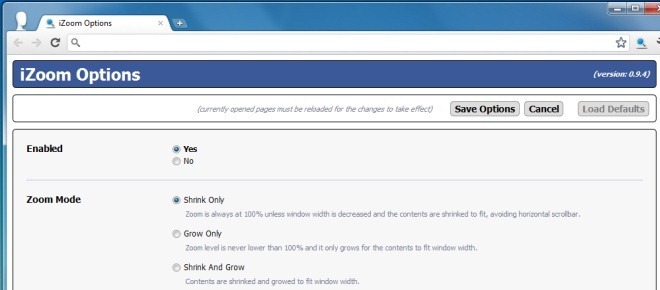 This Maximum Zoom Allowed percentage is used by Grow Only and Shrink & Grow modes to calculate the maximum size to which the contents may be enlarged. The Error Margin percentage value is subtracted to actual zoom level to avoid errors. By default, Exceptions list blocks Gmail from being zoomed. The Exempted Elements that you select will not be affected by Grow changes. Note that, excluding these elements may lead to a slower performance and layout arrangement.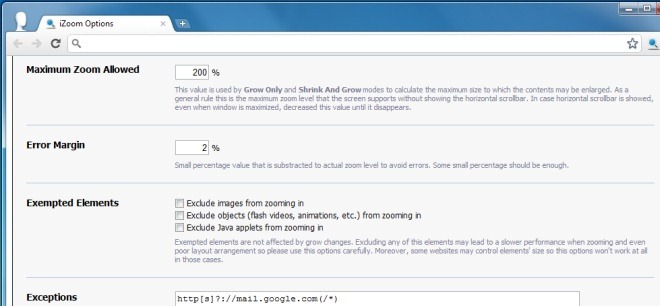 This extension can particularly be helpful for people who browse the web on netbooks and small screens. They can view entire web pages, without having to use horizontal scrollbars, when the windows are resized.
Install iZoom For Google Chrome