Keep Flash Videos In Full Screen On Dual Monitor When Focus Is Lost
If you've had the experience of working in a dual monitor environment, you may have come across the fact that you cannot play a flash video in full screen on the second monitor and perform some other task at the same time. Supposing that one of your monitors is playing a flash video in full screen mode, as soon as you perform some other activity on the second monitor you'll notice that the full screen mode is gone. Apparently, this is one of the limitations of the flash plugin for almost all modern browsers.
IgnoFlash is a patch for browsers that allows a flash video to run full screen in a dual monitor setup even when focus is lost from the video. Full screen mode can still be get rid of through conventional methods (like the Escape key), but mouse clicks won't affect it.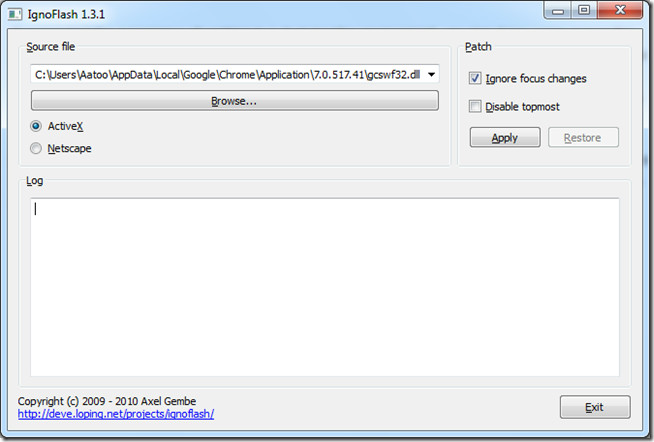 To use the patch, unzip the downloaded file, close all browser windows, run the executable and make sure that the correct DLL file is selected for your current browser (it automatically selected the right one for me). Depending on browser, you will either have to select ActiveX or Netscape modes, which define how the flash plugin interacts with the browser window. Hit apply when done, and that's all there is to it. Enjoy your flash videos in full screen while continuing work.
IgnoFlash has been tested with Opera, Firefox and Internet Explorer 8. It is cross platform and cross architecture, that is, for Windows, Mac and Linux (both 32- and 64-bits are supported).