KeepRecipes: Discover, Edit & Catalogue Your Recipes [Web]
A long time ago, or really, just before the internet was invented, recipes were something like suburban currency for women who liked to cook. They would clip them from books, magazines and create scrapbooks to pass on to generations. Thankfully, the internet was invented and today, there are easier ways to find and manage great recipes.  KeepRecipes, a web service, allows you to discover new recipes from different websites, and save them. You can share your recipes with friends and family. To use the service, you can either login to KeepRecipes with your Facebook account or simply create an account with the service. There are multiple cooking websites out there and you never really know where you might find a good one which is why KeepRecipes comes with a bookmarklet that allows you to save a webpage, or rather the recipe on it, to your account.
Once you've created your account and bookmarked KeepRecipes, you will be able to see your profile. The web app comes with five basic options which are displayed at the top of the page, including recipes, celebrities, bloggers, community and cookbooks. For the recipes category, you will be able to view your Kept and Cooked recipes to the left of the page. Browse for recipes by Freshest, All my Recipes, Cooked and To Cook categories. A search bar is placed to the right, where you can look up recipes based on your queries. Social elements include browsing different Topics, Discussions and accessing your profile from the You category. KeepRecipes also allows you to add your own recipes.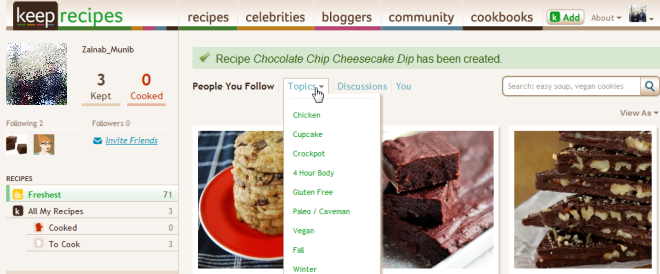 Once the recipes are saved, they are available on your KeepRecipes profile page under the You category. When you mouse over the images, two options are displayed for editing and commenting on the content. Your friends can also comment on a recipe, like it, and view the original website that it came from.

Customize all recipes by adding notes, changing the ingredients and adding a photo. In addition to that, you may add tags to organize your recipes, and even share them on Facebook and Twitter. Once done with the editing, click Save.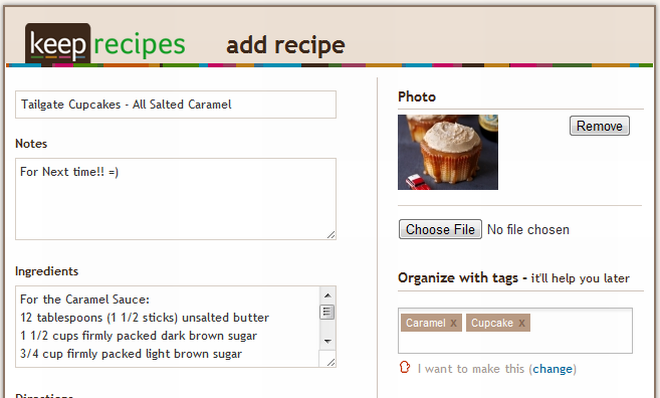 Also, check out the Bloggers & Celebrities category from the menu displayed at the top of the page. In these categories, you will find Top Blogs and Celebrities, and you can simply click the ones you like to start following them.

Apart from offering a web app, KeepRecipes also brings an iOS app to the table. The service has a massive collection of recipes, and is perfect for all the food lovers and chefs out there. Visit the link below and try it out.