KeyStroke Adds Customizable Keyboard Shortcuts To Safari
Using Safari as a primary web browser and want to enhance the browsing experience by associating keyboard shortcuts with common tasks? KeyStroke is a Safari extension that adds a slew of keyboard shortcuts for routine browsing tasks, such as, navigate between tabs, zoom in and out, switch to next page, change input field focus, reload page, open new page, wrap text and so on. Apart from these, you can quickly access KeyStroke preferences, save changes made to settings, associate numeric keys with tabs, and define both blacklisted and whitelisted websites. Moreover, when you type in a URL in address bar, these shortcuts get disabled, letting you enter the website link you want to visit.
After the extension is installed, you can access the configuration page by using command-option-k hotkey combination. It lists down all the supported shortcut keys with their associated functions. The Save Preferences button is present at right side of the page. Clicking that button saves the changes made to default shortcuts, without requiring you to restart the browser. The shortcuts in right pane let you change numeric keys association, define skip length, enable/disable Remember zoomed sites option, customize Next and Previous actions, and define Blacklist (where KeyStroke is disabled), Whitelist (website's keyboard shortcuts are disabled), Greenlist (list of websites where page receives focus instead of text field) and Redlist (where KeyStroke is disabled on frames).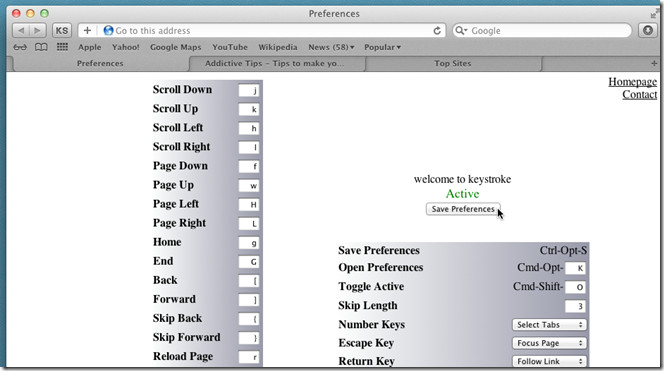 Once you've customized the shortcuts, close the Preferences page. It must be noted that some shortcuts might not work on all websites, such as, Top Directory, Scroll left, Scroll down, etc. However, if it doesn't work on all websites, refresh the websites and then clear the browsing cache. It works on all versions of Safari.