Kulisha Lets You Aggregate & Pin Social Feeds In A Clutter Free Interface [Web]
Normally, to stay up-to-date with websites like Facebook and Twitter, we have to visit the social networks separately and spend a great amount of time on each, but with Kulisha, it is possible to view updates, news, tweets and feeds from multiple sites at the same time. Kulisha is a social network aggregator that collects your social feeds into one central place, provides a more graphical experience, and then allows you to pin them, in a manner similar to Pinterest. This web application makes sure you get a richer experience by gathering all your feeds in a neat interface. It displays feeds in compact tiles and arranges them without any clutter or ads. The Facebook feeds have a dark blue line at the bottom, whereas Twitter feeds come with a lighter blue color.
For now, Kulisha only supports three social networking sites, Facebook, LinkedIn, and Twitter. After you've connected the respective accounts, Kulisha will aggregate feeds from both sites into one. The My feed category allows you to view feeds and you can click the Check for new option at the top of the page to load latest ones. Additionally, four different filters can also be applied to feeds by clicking the Show filters option. You can filter feeds by Facebook, Twitter, Images and Videos options.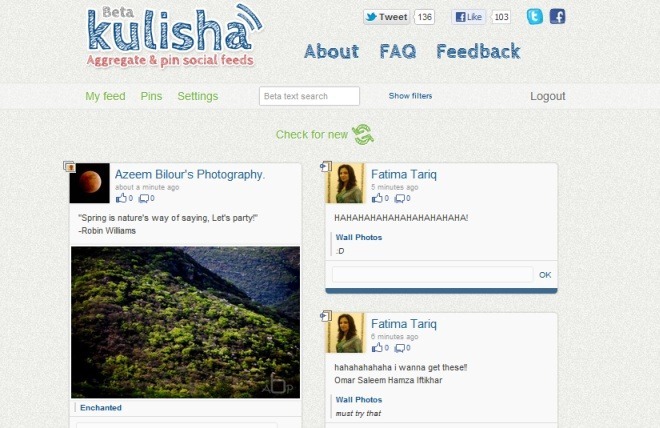 When you hover over an item, two options are displayed, Visit Post and Pin. You can always collect your favorite items simply by pinning feeds, and then viewing them later from the Pins category.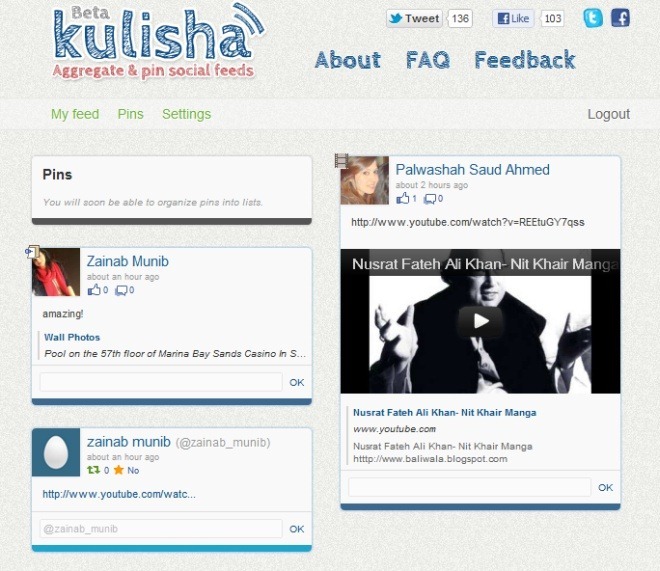 Following news with Kulisha is a matter of preference; on the one hand you might enjoy you the Pinterest like interface although it is more suitable for images, but, at the same time you might not like the news items not being arrange chronologically.  There doesn't appear to be a way to filter items so if you've got all three accounts connected you will see the news items from each account appear on a single page. Picking out which items you want to read later and pinning them to your home page appears to be equally tedious. The one thing Kulisha can do with is better segregation and possibly a time line that actually lists news by time.
Kulisha is an easy-to-use tool that provides you with a visually-more-appealing interface for social feeds. It is currently in the beta stage, so keep an eye for enhanced features and a better experience in the future.