Lookup Meaning Of Words & Phrases With Language Help [Firefox Addon]
Remember previously covered Apture Highlights – an add-on for Firefox which lets you lookup word meanings, references, images, videos, and articles related with highlighted word/phrase with a single click. Apture Highlights has certainly proved to be an useful extension but a bit heavy on resources, as it loads all the related images, video links, Wikipedia articles excerpts on its on-screen window. Language Help is a lightweight addon for Firefox which offers what most users need while reading an article – meaning of selected word / phrase. It integrates with right-click menu, letting you instantly open dictionary.com to read complete article on highlighted word.
Aside from looking up meaning in English language, it also allows user to switch between Chinese and Spanish languages. From Addons window, select Language Help followed by a click on Options to change default dictionary language.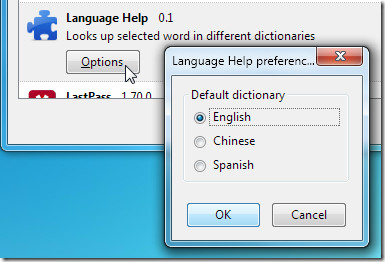 Since Dictionary.com is one the best platforms for listening to correct pronunciation of complex words and checking out word's phonetics, usage, origin, history, etc., Language Help comes particularly useful for those who need to develop complete understanding of words / phrases.
Language Help extension for Firefox