Make Free Calls From Your PC To More Than 30 Countries
Are you looking for a way to call to any telephone number from your PC? Seems impossible, right? But remember, nothing is impossible. FreeRinger is one online service that lets you dial from your PC to any telephone number from more than 30 countries(they include, Argentina, Australia, Canada, China, France, Germany, Greece, Hong Kong, Italy, Mexico, Netherlands, Switzerland, United States, United Kingdom, and many more).

Just Register and start dialing. There is absolutely no download required. The process is pretty straightforward, the number you dial must be in international format(starting with country code).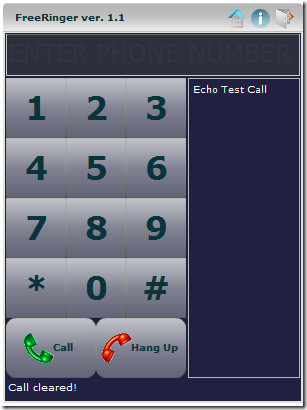 This is how it works, you dial the number of your friend living in UK. You will be provided with a Talkster number that your friend must dial in order to connect to you. Simply sms or send him this number using instant messenger, when he dials this Talkster number, you both will be connected and you can talk as long as you want. Press HangUp anytime you want to end the call. It's that simple.
While testing this service, I was successfully able to call my friend in the UK without a glitch. If you feel a little uncomfortable dialing in the browser, you can click Open In Separate Window link, this will open up a small pop-up phone box which can make you feel much better.