Make Sense Out Of Minutes Of Meetings With minute.io
Whether you consider meetings to be important or a waste of time, one thing every meeting has is a designated minute taker and if that's you, minute.io might just make life easier and meetings less torturous to sit through. minute.io helps you record events of a meeting, it classifies the events as ToDos, Okay, Info and Idea. You can enter members who will be attending the meeting and assign events to them. A due date for each event can be added. After the meeting, you can mail minutes of the meeting to all everyone in two clicks.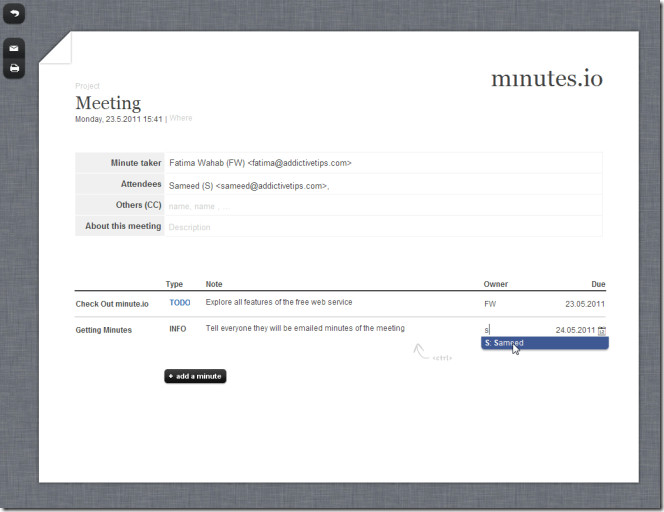 minute.io can be used offline and online; you only need an internet connection to mail the minutes, other than that you can use all features of the service offline. All minutes are taken in a standard template. The template lets you enter the project name, the name and the place of the meeting, (date is entered automatically), who the minute taker will be (email is sent through the minute taker's email), attendees of the meeting, any other concerned person who may not be attending the meeting but should get a copy of the minutes and a brief description of the meeting.
To make it easy to add people to a meeting, you can add them as users. Adding them later is as simple as typing the name in the field; all matching names are listed and you can pick the ones you want to enter. Adding the owner of a ToDo, IDea, Info or Okay is similar.
When minutes of a meeting are mailed to recipients, each recipient receives a link where they can view the minutes on minute.io The link not only serves as a great way to keep a permanent record of what happened at a meeting, but it's also an easy way to share the minutes with someone else. Minutes can be edited and printed right from the service's interface.