Mind iT Is Online Bookmarking Service With Mind-Map Arrangement [Web]
Mind iT is an online bookmarking tool which organizes bookmarks in a graphical, mind-map like representation. This web application can come in particularly handy when you are researching a topic, or when you've got multiple bookmarks related to the same subject. The app is free, and only requires a simple sign up. The visual representations that Mind iT creates are known as LinkMaps, and you can add up to 25 maps, which should be more than enough for most users.
To start off, create a user account and install the browser extension (if your browser is supported). Mind iT LinkMaps can be displayed on any browser that supports HTML 5, and browser extensions are available for Firefox and Google Chrome. A button in your browser window will allow you to quickly add any page to Mint iT LinkMaps, where a small box will appear with the Title, URL, Attach to map and Parents options available (Chrome tested). Change these according to your preferences, and click Ok to add the websites to your LinkMap.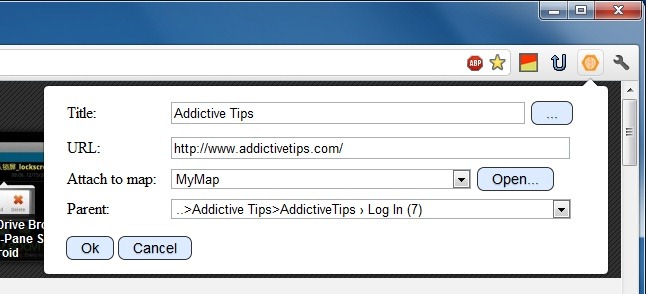 The added bookmarks can only be accessed from Mind iT web interface. Right-click a bookmark item to access Edit, New, Note and Delete options. All components of a LinkMap can be moved around via simple click & drag, while the map itself can be zoomed into using the slider. Mind iT creates search tags automatically when you capture a link, so you can easily search different elements by entering your query in the search box.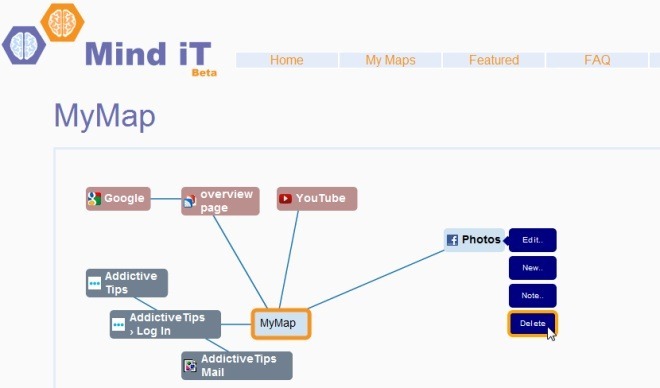 The edit option allows you to change the Title, URL, Tags and Fill for each link. Different colors allow you to quickly identify distinct branches and groups in your map.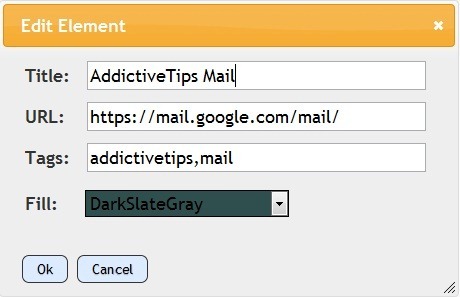 Mind iT gives you a concise and colorful graphical representation of bookmarks, which is more useful than a conventional list of bookmarks. Visit the link below and manage your bookmarks in an easier, more graphic manner.