Minimalist For Google Reader Hides Elements To Reduce Distraction
Minimalist for Google Reader is the latest extension for Google Chrome from Ansel Santonsa, the developer behind both previously reviewed Minimalist for Gmail and Minimalist for Google Calendar. It can hide almost 50 distracting interface elements of Google Reader to give it a minimalist look which leads to improved productivity.
The extension options are laid down similar to previous extensions from the same author. From General tab you can hide icon, show favicon counter, enable transition animations, or use custom CSS to customize the look. From Theme tab, you can change the colors of background, borders, links, and buttons. The Google Bar tab has options to hide Google bar, background & border, Google links, and Google user bar. The Header bar has options to hide header, logo and search. You can also enable a custom logo from this tab. The Main tab allows you to hide Toolbar, Footer, Home, and Items. Lastly, the Navigation tab can be used to hide all navigation options available in Google Reader.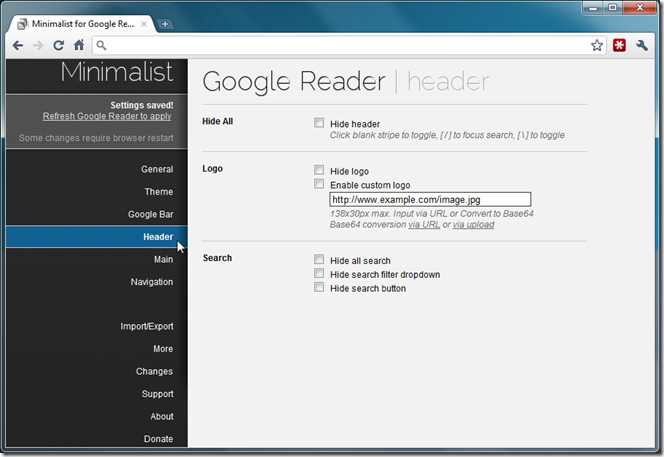 Just like previous two extension, you can import and export all settings of this extension when moving between different computers. In the screenshot below you will see that I have removed Google Bar, logo, and options that distracted me while reading daily feeds.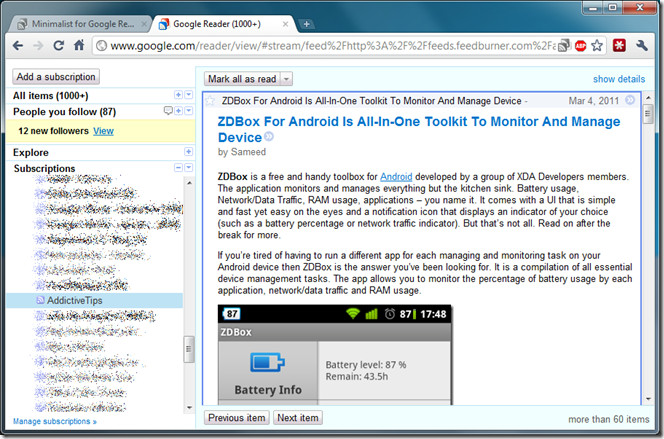 It must be noted that it has just been released and is in Beta stage.