Open Image Source With Right-Click On Facebook Photo Viewer [Chrome]
A while back, we covered an extension for Google Chrome, Revert Facebook Photo Viewer, to bring the Facebook classic photo viewer back. The newly designed Facebook photo viewer has been criticized by a great number of users, but there are also a handful of users who find the PhotoTheatre quite nice. If you laud the Facebook PhotoTheatre then you can add 3 useful options to right-click context menu of Google Chrome – Open Image URL, Show Image URL, and Show High Resolution Image URL, with Facebook Image Link. Why do you need this extension? Because you cannot save the image source with a right-click anymore. When you right-click on an image in the new Facebook viewer, you are actually right-clicking the image element. The extension offers an easy way to get the original source of image in both standard and high resolution image quality.
After the extension is installed, it will instantly add a new menu called Facebook Image Link in right-click menu. Usage requires nothing more than right-clicking over the opened image in Facebook PhotoTheatre. The Show Image URL option will display the source link in a small dialog box, whereas, Open Image URL and Show High Res Image URL will open standard quality image in new tab and show high resolution image (if available) respectively.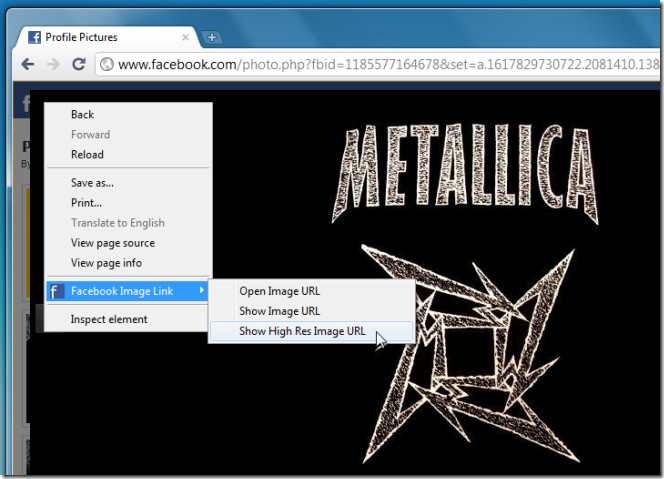 User who are using Revert Facebook Photo Viewer are advised to disable or uninstall it from extension manager prior to using this extension to prevent any sort of conflicts. It works on all versions of Google Chrome.
Facebook Image Link extension for Google Chrome
Update: The extension has been discontinued and cannot be found in the Chrome Web Store.