Open/Edit Any Document Or Image Online With OpenIT Add-On
OpenIt is a Firefox and Internet Explorer add-on that lets you open any document or image online with various online tools. You don't need to download the files to view them on your computer anymore. For Documents, Spreadsheet, and Presentation you can choose between Google Docs/Apps, Zoho Viewer/Writer, ThinkFree, and Vuzit. For Images you can choose between Snipshot, Picnik, Pxlr, and Bilder Editieren.
It can handle the following file types.
Documents (*.doc, *.rtf, *.odt, *.sxw)
Spreadsheets (*.xls, *.csv, *.ods, *.sxc)
Presentations (*.ppt, *.pps, *.odp, *.sxi)
Images (*.jpg, *.gif,*.jpg)
When you install this add-on for the first time, it will ask which online tool you want to assign to the documents and images. The selected online tools will become the default, but you can always change them by going to Options.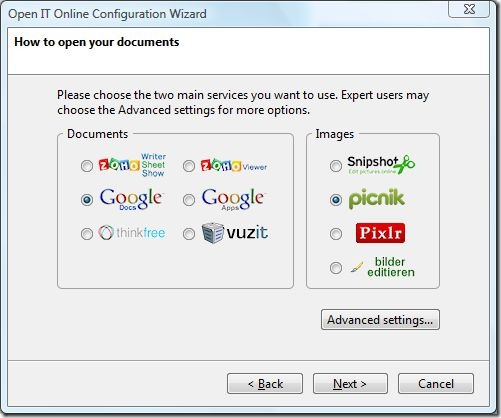 Opening Documents
In Firefox's Open With dialog window, among the listed options there will be OpenIT Online. Select it and then choose the online service that you need to open the document with.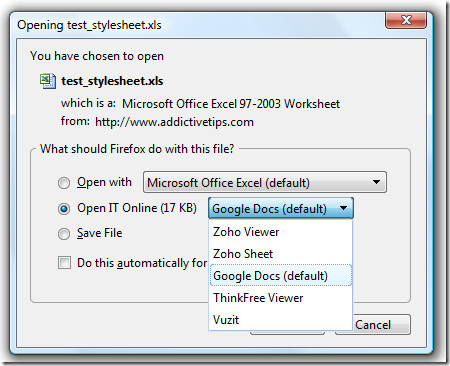 This add-on will simply redirect the opening process to the online tools.
Opening Images
Opening Images in online image editors is quite helpful, with a single click you can edit the image for free without having to use heavy desktop editors such as Photoshop, etc. You can simply grab the image online, edit it online, and save it back online. 🙂
To open/edit any image online, right-click the image, select OpenIT Online, and finally select the online tool from the list.
Sadly it does not allow you to open mail attachments and pdf format, otherwise it's a great add-on you should definitely not miss.
Some features include:
Shows you the file size before opening the document
Works on all version of Firefox from 1.5 – 3.1b3pre
No registration is required
Easy interface and ability to work with Flock(browser based on firefox engine)
Enjoy!