Pancake.io: Get Public Link While Keeping Files Private In Dropbox
Dropbox is a great service; it lets you upload files to the cloud, lets you share files publicly and collaborate with others within a folder. Of course, you wouldn't make just any file public, or you might want to make certain files public to a group of people, like in a forum, but not to everyone visiting the Public folder. Pancake.io is a web service that extends public sharing files in Dropbox. It allows you to upload and share links to files that you upload. You can link to each file individually, make changes to any file and embed a list of links to each file. Details after the break.
The web service is free and supports a few select file formats in its infancy stage. The service doesn't just link to the files, it allows you to view them without having to download them to your hard drive. To get started, sign up for an account, and connect your Dropbox to the service. It adds a Pancake.io folder inside the App folder, and all files that you want to upload, link to and create a list for, should be uploaded to this folder from Dropbox. The service itself is not used to upload files; you will need to use either the web interface or the desktop app for Dropbox. All files that you upload are listed on the Files tab.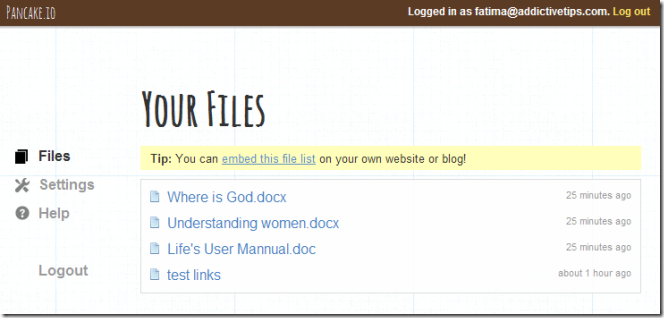 Clicking on an individual file will open the file in the service and give you a link to share the file individually.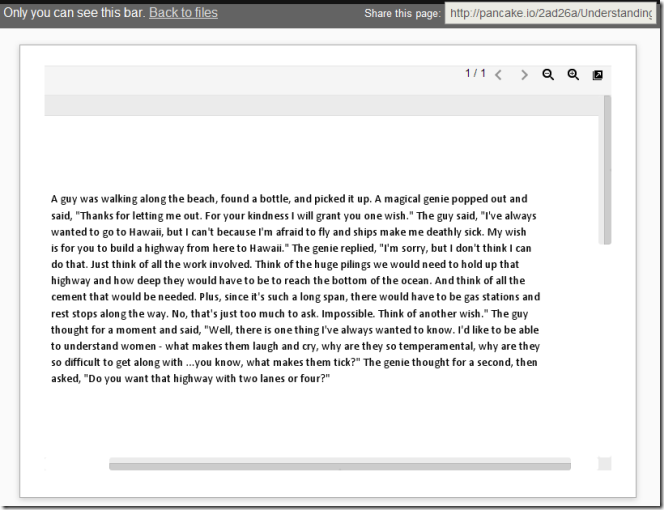 The app does not allow users to access files directly from your Dropbox; rather, it accesses the files and allows users to view them through it. To embed a complete list of all files that you have in your folder, click on the Embed this file list link above the files, and Pancake.io will generate an embed code for you to add to your site.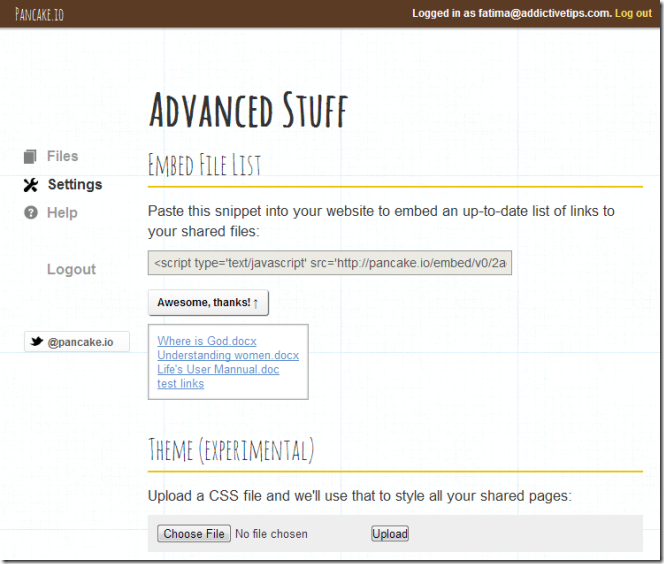 Furthermore, it also allows you to edit the file viewer's appearance by uploading a custom CSS file from the Settings tab.
Pancake.io is useful when you are working on a file and want to share your progress with others in a forum for feedback or help. The service allows you to continue updating the file regularly, and provides others an easy way of viewing it. So long as you do not change the file name, the link will always work, and reflect the most recent version of the file. What would make it even better is if you could create directories/folders in the Pancake.io folder, and they could be listed and shared independent of each other.