PicYou – Add Effects To Photos & Upload To Facebook Instagram Style
Pout as much as you want or call it useless and no fun; Instagram is still just an iPhone owners club and it isn't likely to get a web interface any time soon. Though there have been several services that let you connect your Instagram account and view the photos online, the bottom line is you still need an Instagram account to do that. PicYou is a web service that touts itself as the Instagram for the web, it allows you to upload photos either from your hard drive or from a URL, add effects to them and share them on Facebook.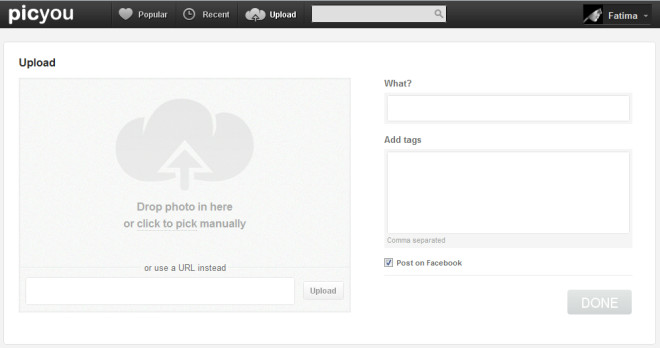 To start using the service, sign up with either your Facebook or Twitter account.  The service does not pull photos from your Facebook account; to get started you have to either upload an image by dragging & dropping it or by selecting the Upload button from the navigation bar. Alternatively you can upload an image from a URL as well. Once you've loaded the image, start applying effects from the horizontal scroll bar below the picture.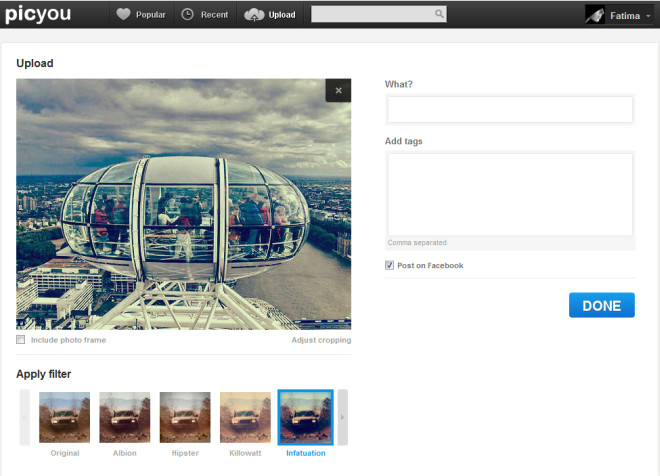 Once you've got the effect you want, add a description, tags and upload to Facebook. The service doesn't have nearly as many effects as Instagram but you can be sure that more will follow making it a worthy web rendering of the popular iPhone app.