Pix.im – Upload, Tag, And Share Pictures On Twitter
Pix.im is a new online service for twitter that lets you upload, tag, and then share pictures on twitter. It has a build-in live feed called Friends Activity where you can see all your friends activity on Pix.im. Whether your friends have joined, made more friends, or uploaded pictures, everything will be displayed real-time in the feed. It does lack some features such as geo-targeting which can be found in TweetPic.

To being, first sign-in using your Twitter login and password, it will then redirect you to the Friend's Activity tab.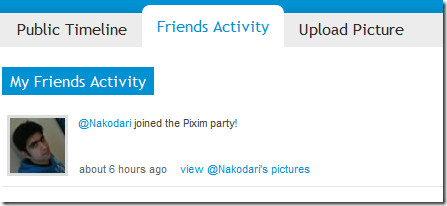 To upload a picture, go to Upload Picture tab. Now select the photo that you want to upload, add some tags, and write a small tweet about the picture. Obviously the last two options are optional. You can also select the privacy options for your photos, do you want to make it public, want only your friend's to see it, or only want your followers to see it.
Once the picture has been uploaded, you can further tag your friends and have a little more fun.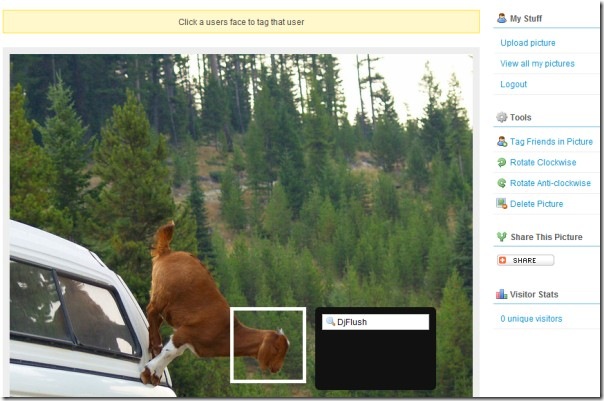 The picture can be rotated Clockwise or Anti-Clockwise, which is a great thing. You can also keep tab on the number of visitors who have viewed your photo and see which country they are coming from. You can judge the service yourself by looking at the comparison chart below.
| | | |
| --- | --- | --- |
| Features | Pix.im | Twitpic |
| Tagging | Yes | No |
| Live Feed | Yes | No |
| Geo-Targeting | No | Yes |
In my opinion, tagging is the only feature that can make this service more competitive in the market, and give TweetPic a real competition. Remember how tagging in Facebook gave it a large market share, people just love to tag. According to their CEO Jim Neath, the API should be rolling out next week which will give them an ability to integrate with Twitter apps. The site is still in beta, so expect more updates every week. Enjoy!