PollHut: Create Your Own Polls And Vote/ Comment On Others' [Web]
PollHut is a slick web application that lets you create polls and allows other users to vote on them. PollHut comes with an easy-to-use interface that allows you to quickly create polls and gather opinions from all around the world. The poll can be either set as public or private, and other users can add options to it. The web app requires users to sign up for the service so they can create polls. Analytics for each poll can be viewed by users by clicking on View Statistics on post view page. Polls can further be sorted by Popular, Recent, Views or Votes. PollHut currently displays six basic categories for polls, all of which consist of further sub-categories. Each poll page allows registered users to comment on a set of options. This allows users to filter comments for each set of options provided. Moreover, PollHut allows bloggers and web developers to embed polls in their websites.
To create a poll, users will have to register for the service, the process for which is fairly simple. Once you've registered for the service, you will be able to browse six basic categories on the homepage, viz Computers, Current Events, Electronics, Entertainment, Lifestyle and Sports. Click the categories that interest you and sort polls by Popular, Recent, Views or Votes. At the very top of the page, you will find a create a poll button, which will let you create your own poll. As you scroll down this page, you will find Popular polls and votes for them.
You can easily create your own polls by clicking on the create a poll button. To start a new poll, you will have to enter Post Details, such as the Title and Category. You can keep polls Public or Private, depending on your preferences.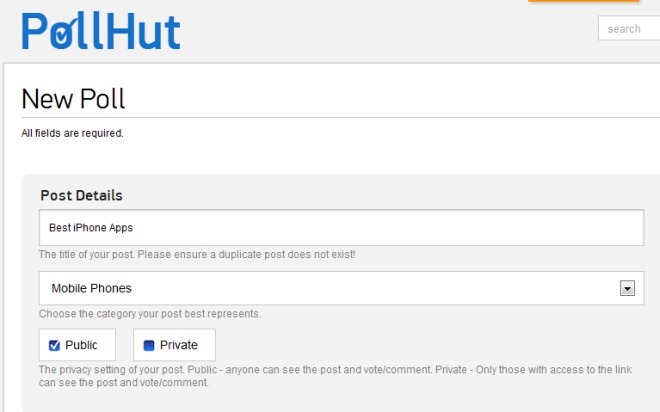 The Options category allows you to enable a Single vote, Multiple votes or set a Max number of votes. Furthermore, you may allow users to add their own options to the poll, therefore giving them another way to contribute to the poll. Finally, add a description for the poll you create and hit the Submit button once done.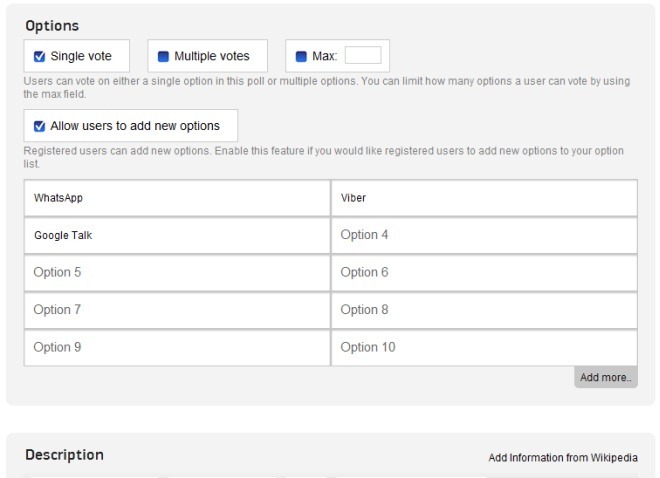 Click your username displayed at the top right corner of the page to go to your profile. The profile displays details such as total posts, comments, total likes and more. The profile also displays the polls you have created. Click these to view them in detail and to copy the embed HTML code to use on your website or blog.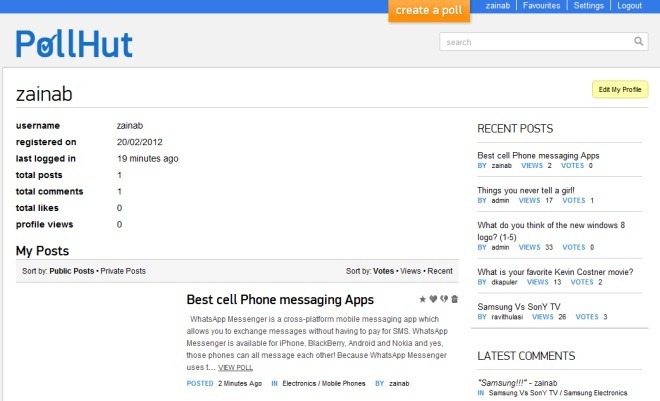 PollHut works smoothly and allows you to gather opinions on various topics and categories. Visit the link below and give it a try!