Pop Out, Change Font Size & Add Animations To Facebook Chat [Chrome]
If you find the Facebook chat font size too small, or if you want to add more emoticons while chatting, then Pretty Facebook Chat is just what you need. This simple tool enhances your Facebook chatting experience by letting you drag the chat window, change the font size, window size, add shadows, animations and an emoticon window. After you've installed this chrome extension, you will notice a red chat icon near Facebook chat and in the URL bar. Clicking this button allows you to toggle the Pretty Facebook Chat on and off. Furthermore, the chat also comes with a whole lot of emoticons, you can add smileys, troll faces and other symbols, all of which brighten up your chat conversations.
Once installed, a red chat bubble icon will be added in the URL bar and next to the cha bar in Facebook. Any conversations that you're having can now be repositioned to any other part of the page by dragging its top bar. Unlike the way a Gmail chat pops out i.e. independent of the browser window, this chat conversation is still confined to the current Facebook page and if you minimize the window, the chat will also be minimized. The smiley icon at the top will open to reveal a whole host of new emoticons with images of The Simpsons, a Troll face, letters of the alphabet and more. Unlike the default Facebook smileys though, these will appear as links when selected and dragged to the text input area in the chat window.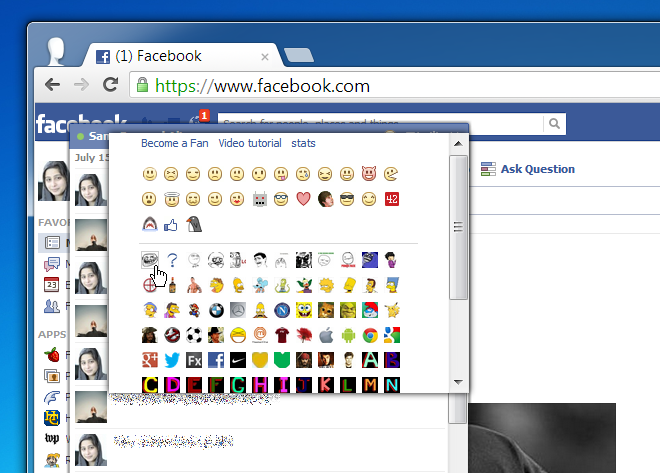 Clicking the red chat bubble button in the URL bar will reveal three options that allow you to customize the chat window. The only downside to using these options is that you have to 'unlock' them by liking the extension's page on Facebook. The button in the URL bar allows you to control the drop shadow and size of the chat window. You can change the font type and increase or decrease its size. Simply use the sliders and adjust size, fonts and shadows according to your preference.

The negative side of this extension is definitely the method of unlocking some of the features. Having to like a Facebook page to use an extension when they are, by and large, available to use without any strings attached is bound to limit the number of people willing to give it a try. All in all, Pretty Facebook Chat is a reasonable extension that is worth checking out if you use Facebook chat on a regular basis.
Install Pretty Facebook Chat For Google Chrome