Popular iPhone Messaging App IM+ Now Comes To Desktop
Connecting to multiple messengers separately can fragment the desktop space to an unmanageable level. Many users have to login to their Skype account, Facebook chat, Windows Live, Yahoo messengers and Google Talk. IM+ is a widely used mobile application (particularly by iPhone users) which has recently launched a version desktop users. IM+ allows users to centrally login and manage multiple messenger accounts with convenience. This application uses the Adobe Air platform which makes it compatible across all platforms (Windows, Linux and Mac).
To start using IM+ you will have to sign up or login with your IM+ account. Once logged in you can add multiple messenger accounts such as AIM, MSN, Facebook, Google Talk, Jabber, Yahoo, ICQ, My Space and Skype.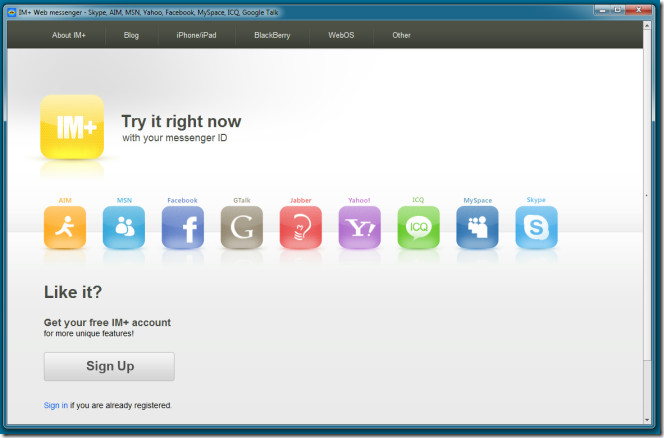 All your messenger accounts are displayed in a centralized window after being added to IM+. To add an account you simply need to click on the '+' sign on top of the window. Users can also choose to hide offline users for their convenience in order to avoid cluttering their contact list display.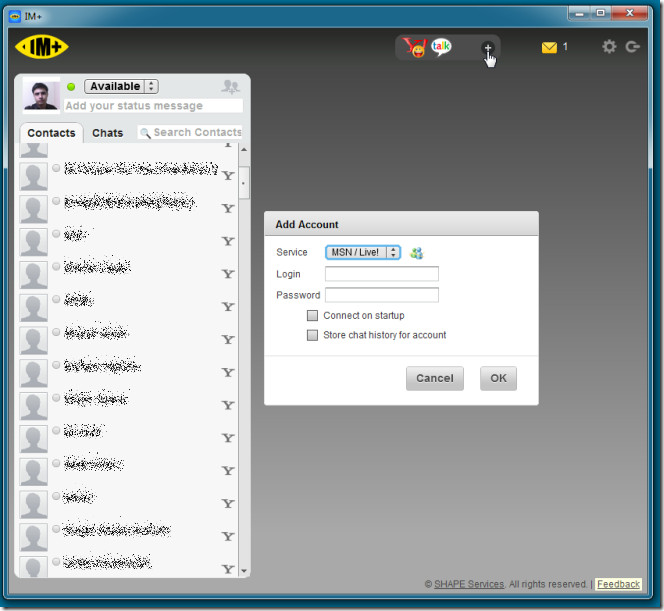 By clicking on the settings button located next to the '+' button, users can customize their settings according to their preferences. In the layout tab users can choose to hide offline users, show groups,block messages from people not in their list, set an avatar and the window display options.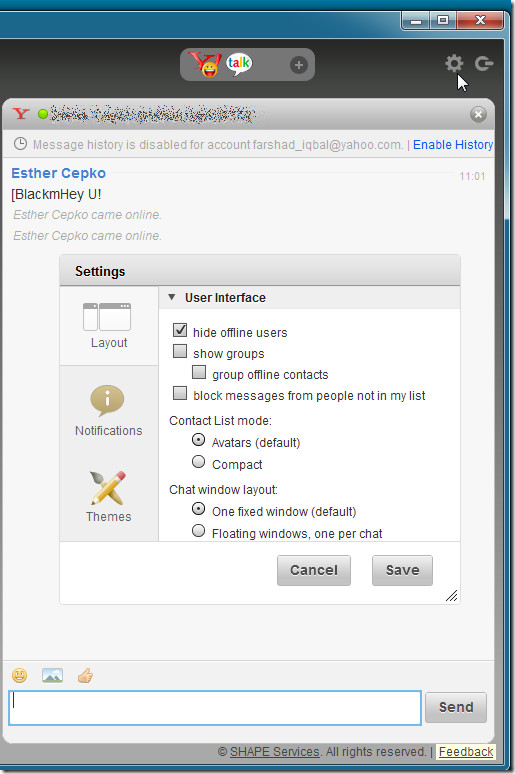 The Notifications tab allows users to customize notification alert settings such as visibility of notification messages and sound effects. The themes option allows users to select a theme for their IM+ messenger with a choice of 6 vibrant colors.
IM+ is quite a compact application for centralized and clutter free management of multiple messenger accounts from social networks and conventional messengers. Being an Adobe Air app, it works across all platforms, XP/Vista/7, Mac and Linux. We tested this application on Windows 7 64-bit system.