Post Sticky Notes On Web Pages In Google Chrome
There are several handy note taking applications that you may use universally throughout your PC. Some are accessible through the system tray, some through keyboard shortcuts or any other method. But what if you want to take some note, and keep it, while browsing? Surely, you can use the native PC applications, but it can be cumbersome to remember which note went with what web page, and what part of the page.
In Google Chrome, now you can place sticky notes on web pages right within the browser, thanks to the extension Note Anywhere. Not only does it allow usage of notes, it also remembers them, so that the next time you visit that particular page, your notes will remain in the exact location where you left it.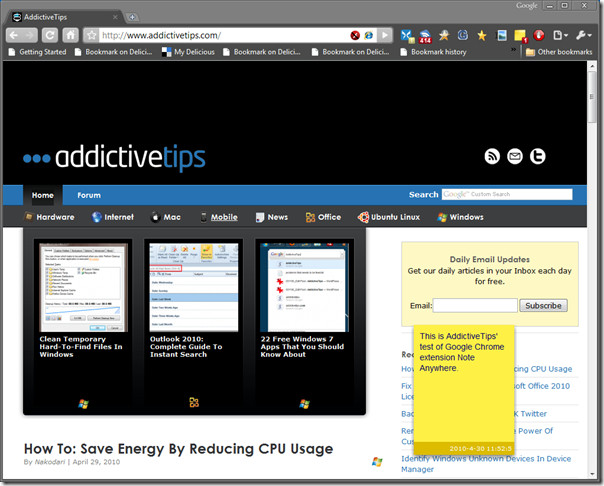 The notes are drag & drop supportive, so you can place them in the browser window anywhere you like. Each note is saved with a time stamp, so you can know the exact time when that note was added. You can add as many notes as you like per page, and the extension will remember them and return all the next time that page is opened, even if you have closed the browser window.
A badge icon for Note Anywhere next to the address bar shows the number of notes added. To add notes, click the note icon, while right-clicking will give access to options. Under options dialog you can change the note styles as well as see a summary of the notes added.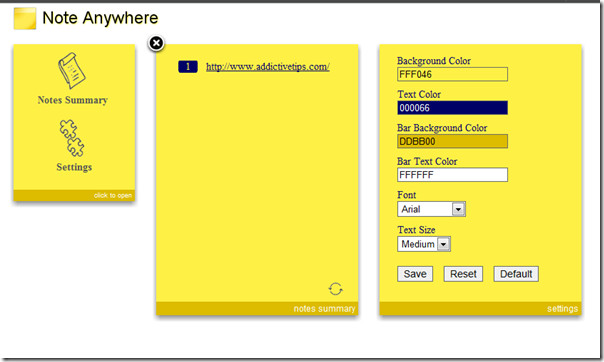 Note Anywhere is a useful extension for Chrome that can facilitate browsing for many users. The developer of this extension plans to add some really nice features in the next version, including resizing the notes, import/export function, syncing notes between multiple computers and sharing.
Install Note Anywhere (Google Chrome Extension)