PowerSwitch: An Alternative Way To Find & Switch Between Tabs In Chrome
When you've got lots of windows open with multiple tabs, finding a particular one can be a cumbersome task. PowerSwitch, a Chrome extension, makes things easier and lets you switch between multiple tabs via an on-screen list. It lets you you switch tabs instantly with a Ctrl+k keyboard shortcut, which displays a list of all your open tabs in a new window. You can then select a tab and hit enter to navigate to it. This eliminates the need to visually scan the tabs one by one in order to find the right one. PowerSwitch can be a handy utility for people who work with several tabs that often results in short tab sizes.
After installing the extension, whenever you find it difficult to locate a particular tab, use the Ctrl+k keyboard shortcut to open a list of all your open tabs in a new window, select a tab and hit enter to navigate to it. Additionally, you can type in a few letters of a tab's title and instant search results will be displayed. You can then move through the list using the up/down arrow keys, and hitting Enter to navigate to a particular tab.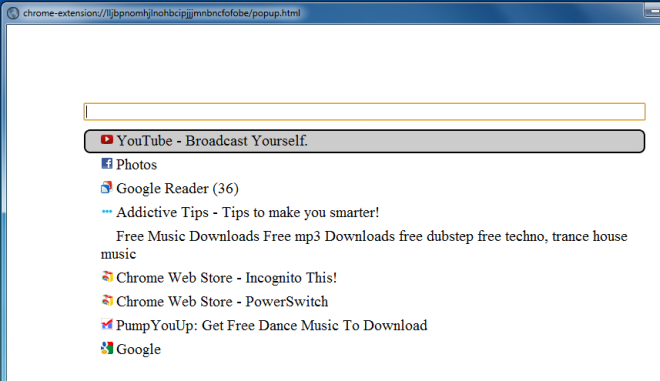 We've covered quite a few similar extensions like this for Chrome before and unlike the majority of them, PowerSwitch allows you to switch between windows. It's a good sign that most tab switching extensions are also supporting switching between windows and perhaps it is now time to focus on making tabs open in different tabs more easily distinguishable. For the most part, the tabs are simply listed and you can't really tell if a tab is in another window or the same one you're working in. An extension that makes this easier to distinguish will be far more useful for users who use different Chrome profiles concurrently.
Please note that after installing the extension, you will need to refresh each tab before the shortcut will work, or restart Chrome. Additionally the keyboard is responsive only if the content is in focus i.e. the cursor is not active in the Omnibar or in a search bar or other text input field. PowerSwitch is quite a handy extension, especially for people who work with loads of tabs and windows. It can be found at the Chrome Web Store link below.
Install PowerSwitch For Google Chrome