Preview & Inspect Extensions In Your Chrome Browser Before Installing
The Chrome web store may be boasting over 100,000 apps and extensions but not all of them are as safe as you would think they are. As far as security is concerned, Mozilla definitely takes its extensions and it's repository more seriously, whereas extensions in the Chrome web store only state which permissions they will be using and it may or may not be correct. In a nutshell, when you download and install an extension for Google Chrome, the old caveat emptor applies. Extension Gallery and Web Store Inspector is a Chrome extension that allows you to inspect an extension's files in your browser without first having to download it. It gives you both a summary overview and a detailed view of each file that the extension uses. The extension detects which APIs the extension uses and which permissions it needs.
Once installed, the extension icon (a lightening bolt) appears only when you visit the installation page of any extension in the Chrome web store. Click the icon and a popup will list the size & type of the file, which permissions it needs (what information from your browser it will pull) and which APIs are called when using the extension.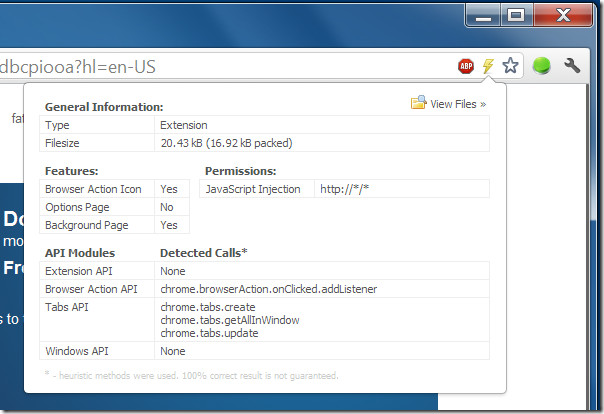 To view the extension files, click the View Files button and the popup will expand to list a complete directory of files in the extension. Even if you don't know much (or anything at all) about Chrome extensions, you can still check out which websites are being called and judge if they are necessary. The screenshot below shows files from an extension that claims to make it easier to access the Chrome Download page but the Manifest file from the extension shows it is actually pinging the Amazon website and several of its regional sites. You may not know what information it is sending to Amazon but you can tell in a heart beat that visiting the site is absolutely unnecessary when you open the downloads page.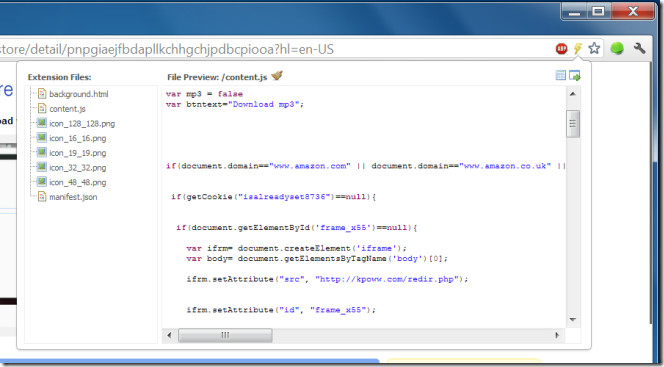 What might be tricky to tell is which APIs are being used, the extension lists those in the file summary (using the heuristic method). Extracting files may take some time depending on how many there are.
Install Extension Gallery and Web Store Inspector Extension For Chrome