Print Web Pages, Images And Emails Using Google Cloud Print
Google Cloud Print just about killed the need of using cables to connect to a printer and if you work in an office where fifty people share one printer and you've had to suck up to the guy who's system it's connected to, then Cloud Print has probably rescued you in more ways than you can imagine. A few shortcomings with Cloud Print are that it only prints from Google Apps or files from your Android or iPhone. Printing emails, attachments or even images is an entirely different story; Print Using Google Cloud Print is an extension for Chrome that will change all that, it will let you print any file, image or Gmail email or attachment right from your browser.
First things first, set up Google Cloud Print and install the extension. For those of you who aren't familiar with Google Cloud Print, it allows  you to connect to a printer that has been set up with your browser alone. The printer, a perfectly normal one that can connect to the internet, can then receive print jobs from multiple Chrome browsers via an internet connection. You need only set your browser up with a printer.
The extension adds a Print all using Google Cloud Print option in mail view and a Print attachment using Google Cloud Print option next to attachments. Clicking on either of these options, opens the Google Cloud Print dialog box. If you have several printers added, it will list them all and you can choose which one you want to send a print job to.
In addition to printing mails and attachments in mails, the extension lets you print any document in DOC, TXT, PDF, JPEG format if it exists somewhere online. Whenever you open a file that the extension supports, a print icon appears in the URL bar.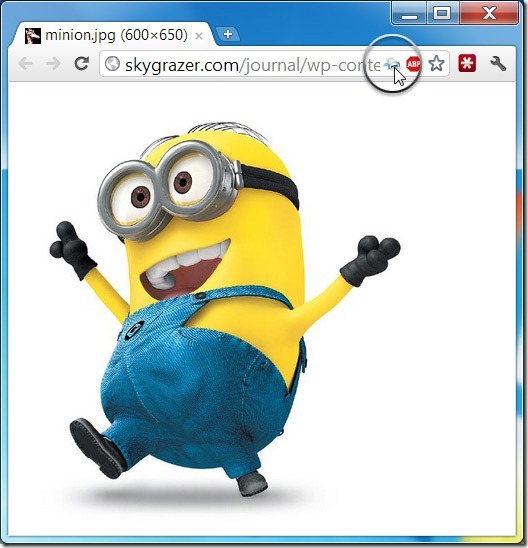 Click on the icon and the Google Cloud Print dialog box will open.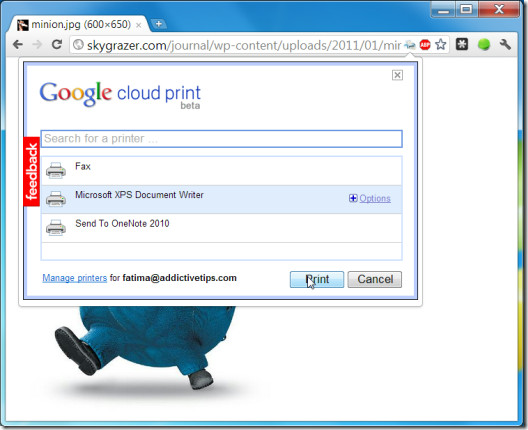 So, without this extension, you could only print from Google Apps, an Android device and iPhone provided the browser you use supports HTML 5. With the extension, you can now print any file in the supported format right from your browser. The extension may seem small but in an office environment,  it means you don't have to add a network printer, you don't need to install printer drivers, users can send print jobs from their work stations and the printer will queue them. That means there's no more 'waiting for your turn to print' a document'. It also makes it easier to print useful documents online without first having to download them and email them to yourself. Hopefully the extension will soon support more file formats.
Install Print Using Google Cloud Print For Chrome