Private Browsing History Recovery Saves Firefox History In Private Mode
Your reasons for browsing in private mode are entirely your own and which sites you visit is a secret that only you know but for those who use private browsing for legitimate reasons (like playing online games at work without being caught) your private browsing history might be very important to you. If you use Firefox, there is a way to save it. Private Browsing History Recovery is a Firefox extension that allows you to save history when you're browsing in private mode.
Once installed, begin private browsing. The extension does not automatically start saving your browsing history, you have to manually start saving it from the side bar. To access the extension's side bar either use Ctrl+Shift+U or go to View > Sidebar > PrivateBrowsingRetriever.To start saving history, click the Start button. The Clear button lets you clear the history that's been stored so far and the Stop button stops the extension from saving history.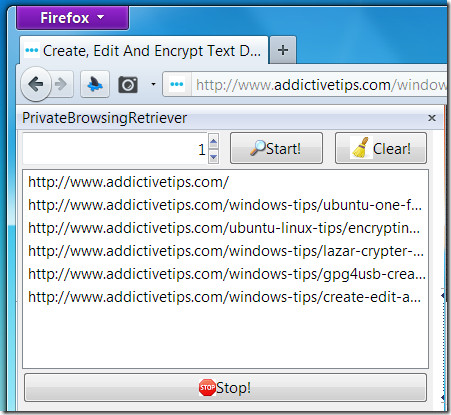 There is no export or import feature for your browsing record, nor can you use it to open a page that you've previously visited so there is definitely room for improvement. Since you have to enable the extension to save browsing history in private mode each time, you can't use it to monitor someone else's online activity while using private mode.
If the extension stops saving pages as you visit them, try closing and reopening the sidebar. Once the sidebar is closed, all saved history is removed. To minimize or hide the side bar without losing your history, click the small arrows separated by a dotted line and the side bar will minimize. To restore it, click the same arrows and dotted line that will continue to appear on the left side inside the window.
Install PrivateBrowsingHistoryRecovery Extension For Firefox