Push Notes From Your Desktop Browser To Android Device With NoteOnHand
Note taking web services or the sticky notes on your desktop help to remember all those great thoughts you get while you work. Thoughts like the grocery list or a list of errands, though shouldn't be left on your desktop, they should make it to your phone where you can access them anytime and actually use them to remember stuff. NoteOnHand is a web service that lets you create notes from the desktop and send them to your android device. The service uses your Google ID (associated with your android device) or an open ID to send notes.
To get notes on your Android, download the free app, use either your Google account or an Open ID to sign in to the the service from your desktop and start creating and sending notes. For now the service is one way, you can only send notes from your desktop to your Android but not the other way around. Notes can be edited from your device and shared on your social networks. You can also copy the note to your clipboard for pasting in text messages. Notes have a character limit of 512, so make sure you scribble wisely. NoteOnHand Chrome app is also available in the Chrome web store. The service can be particularly useful if you often look up phone numbers or addresses online but forget to add them to your phone.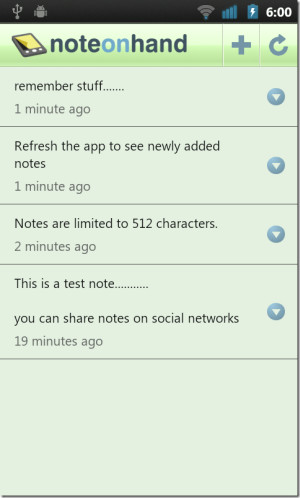 The android app for NoteOnHand was tested on HTC Desire, HTC Desire HD and Samsung Gaalxy and worked, however, it failed to install on HTC Desire Z . Let us know if you had better luck.
Download NoteOnHand For Chrome
Download NoteOnHand For Android