Push Web Articles To Kindle And Convert To Other eReader Formats
Amazon's Kindle may have started out as simple eReader but free 3G on the device compelled many people to want to do more with it. In addition to being able to read over 950,000 books (from the Amazon store), newspapers, magazines, listen to MP3s and checking Gmail, Kindle owners can now use Kindle It by Fivefilters, a free web service, and push any web content to their kindle. The service provides a bookmarklet that you have to add to your browser bookmarks and use to send web page content to your Kindle device quickly.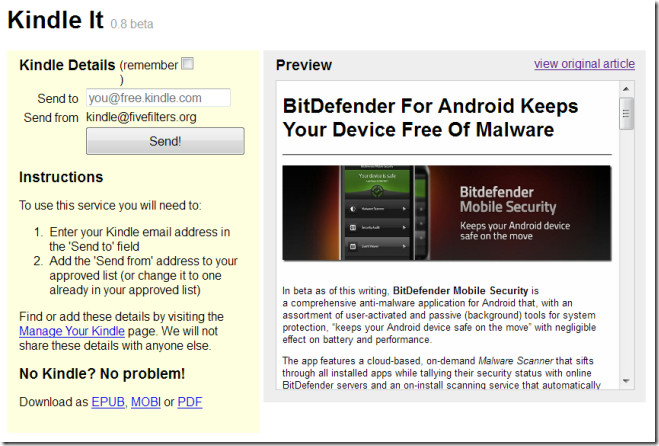 Kindle It can convert web content into Kindle readable format and send it to your device. It sends the converted content to your @free.kindle.com address from it's own free service. You can send content directly from the Kindle It website or you can add the bookmarklet in your browser and click the bookmark whenever you want to convert and send a web page to your device. Kindle It lets you preview the content before sending it to your device. It removes all irrelevant images and links from the page giving you only the article you want to read and the images related to the article.
This service isn't just for Kindle owners though, it can also convert web content to EPUB, MOBI and PDF formats for reading on any other eReader. Content can be converted when you preview the content for Kindle; links on the bottom left converts it to the format you need. You can then transfer it to your device. Although it isn't as convenient as having the content sent directly to your device, it's still an easy way of getting just about any sort of content in a compatible format on your eReader.
For Firefox and IE9 users, adding the bookmarklet will be easy, drag & drop it to the navigation bar. For Chrome 11 users, you'll need to get the bookmark bar up there first. Press Ctrl + Shift + B (or enable Always show bookmarks bar from Settings –> Tools) and the bar will appear. Drag & drop the bookmarklet on it. Whenever you find a page you would like to send to your kindle, click the bookmarklet and it will open the page for preview. If you've saved your @free.kindle.com account (checked the Remember checkbox) all you have to do is press 'send' after clicking the bookmarklet and enjoy reading.